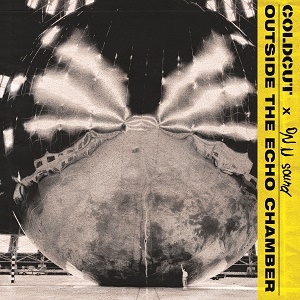 23 May 2017
English electronic music pioneers Coldcut join forces with the godfather of British dub Adrian Sherwood, aka On-U Sound, for sixteen slabs of heavy dub infusion.
Though clearly rooted in dub's heady psychedelia, Outside the Echo Chamber runs the gamut from hip-hop to pop to reggae while featuring an impressive cast of guest vocalists. The opening "Vitals" features Roots Manuva rapping over some spacey dubstep, while Chezidek joins the group for the roots reggae of "Everyday Another Sanction." Dancehall vocalist Ce'Cile breathes life into one of the standout tracks in the collection, the heartfelt Caribbean-fueled pop ballad "Make Up Your Mind" (also performed by former Wailers vocalist Elan) and later Lee "Scratch" Perry joins Junior Reid and Elan for the revolutionary "Divide and Rule." The other side of the world gets explored on "Kajra Mohobbat Wala," which features Indian vocalist Hamsika Iyer, though Rholin X turns out some more modern hip-hop on "Robbery." Several instrumentals and dub versions further round out the release for nearly an hour of mind-blowing sonic greatness.
In addition to the CD and digital versions, Outside the Echo Chamber also comes as an 8×7" box set in keeping with dancehall tradition. Whatever your poison, turn it up and delve into the heart of electronic mastery.
comments powered by