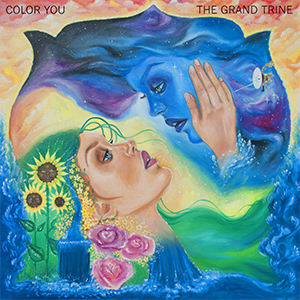 27 November 2016
Californian quartet Color You have recently released their newest album, The Grand Trine, a punkish psych rock spectacle. Los Angeles-based, the band clearly wears their geography on their sleeves, but their brand is not the elongated, drugged out affair typical of the genre. Although the album artwork looks like something painted on the side of a hippie's dream van, the music itself is a leaner and harder take on psychedelica. It's 60's psychedelic rock by way of the Pixies and Nirvana first, and the band isn't afraid to explore the opposite extremes of their bicameral personality.
Songs like the ebullient "Empty" and "Lady in Blue" are almost pure straight anthemic rock, if not for the often ethereal vocals that seem to float around unhinged. Elsewhere, however, "Shine Through" and "In Tune" play like a trippier and less ego-driven version of the Red Hot Chili Pepper's signature California sound. The band evens make a brief excursion to the world of surf rock on the reverb soaked, "Same Old Story," yet the band remains at their peak when playing a concentrated, stripped back version of the alt rock popularized by the Pixies.
The Grand Trine isn't a perfectly cohesive effort, but it's the sound of a band tightening up considerably since their formation, and truly beginning to find their own voice.
comments powered by