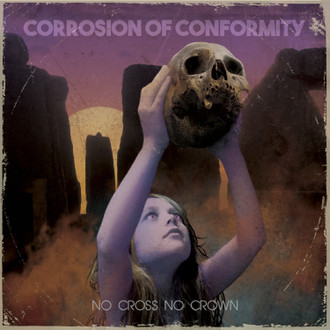 10 February 2018
All is right with the world: Corrosion of Conformity have released their tenth studio album, No Cross No Crown. Much is written about line-up changes, who is in, who is out, but this matters very little since all C.O.C. releases are a reason to celebrate. For a band from 1982 to keep on doing what they do, regardless of the flavor of the month, is a rarity.
For their latest offering, they bring the doom and it is thick and groovy. You will need to take your time on this one as it is quite lengthy which might prove difficult for some given the current age of shuffle and streaming. If you prefer a few quick fixes, there are highlights abound: the fantastically tight rhythm of "Wolf Named Crow", the riffing on "Cast the First Stone", and the thundering drums on "The Luddite." After these three listens, no doubt most listeners will stick around for the rest. Respect is certainly paid to doom forebearers Black Sabbath, even a few select interludes smattered about, allowing you to catch a mental breath before the next track.
Regardless of how the world changes, it is great to know C.O.C. will continue to add to the punk/ metal lexicon they helped establish, this one certainly leaning more on the metal side, and once again prove the best head-bangers have a punk soul.