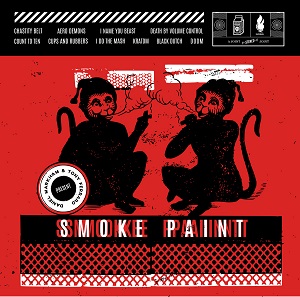 4 March 2015
Denton, Texas musical magnates Daniel Markham and Tony Ferraro have joined forces on a new venture entitled Smoke Paint. The duo have both earned gold status in the little art hub town outside of Dallas with stellar solo and band releases comfortably under their belts. With Smoke Paint, Ferraro and Markham indulge in their more experimental leanings and turn in some pleasing songs in the process.
"Aero Demons" hits early with an elastic bass line, thudding drum beat and overdriven vocals, producing something unexpectedly psychedelic . "I Name You Beast," takes Ferraro's derisive lyrical approach and twists it inside of some kind of minimal/piano-led/madman ballad. "Kratom" and "Chastity Belt" hit hardest, both exhibiting four track precision and ambiguous doom.
Smoke Paint is a welcomed collaboration and one we should hope to hear more from. It's pushed both Markham and Ferraro into new territory that may have not been explored otherwise. Party on hopeful doomers.
comments powered by