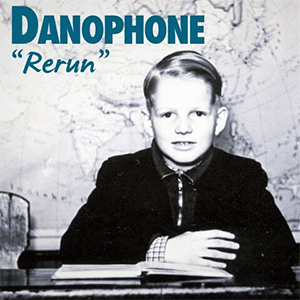 2 December 2016
Denmark's Danophone, the musical project of Carsten Nielsen, are set to release their debut album Rerun this month. Nielsen, a science journalist by trade uses his project as a balance to the fact and logic-based world of his day job, so one can naturally expect a fair amount of maudlin emotional honesty dripping from the record. Indeed the songs are quite melancholic which is markedly ironic considering he comes from what has been voted the happiest city in Europe in the happiest country in the world.
An obvious influence here is that of the working class roots of Bruce Springsteen, and there's a certain homegrown intimacy akin to Springsteen's seminal lo-fi record Nebraska. Occasionally a power pop element slips through as on the undeniably catchy "City Of The Kings," but for the most part a sparse sense of internal struggle and melancholic regret inhabit every pore here, from "Meet In The Middle" to "Turn Blue," the latter an even sadder take on the King Midas myth.
Purposely recorded with limited technology, Rerun is as warm and tender as it is personal and intimate from a musician with an immediately identifiable voice deserving to be heard. Rerun is out December 2nd.