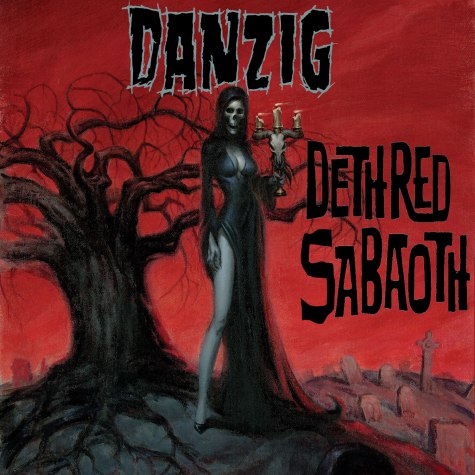 16 June 2010
GLENN DANZIG sets his dark shadow across the music world once again after a six year absence, with the new Deth Red Sabaoth set to hit the streets on June 22nd. Can the mastermind behind the seminal ghoulish hardcore and metal bands MISFITS and SAMHAIN still summon the demons like he once did? Even the first half of his self-titled Danzig output could nearly stand shoulder-to-shoulder with the previous work, but ever since How The Gods Kill it's been a slow but steady decline into uninspired songs and self-caricature.
The opening track, "Hammer of the Gods," has nothing do with LED ZEPPELIN or post- SILKWORM Bottomless Pit; it's not a bad start to the record but won't make the hair on the back of your neck stand up. Glenn's vocal bellow sounds a bit swamped, fighting for room amidst the multi-tracked guitars, that consist of sturdy, standard issue riffage with an annoying bit of high register guitar squiggle periodically stuck in there. That squeak rises its trebly head for the next song ("The Revengeful") too; Glenn, do not go gently into that good hair metal night. Things improve upon "Rebel Spirits." The martial beat is more menacing, the palm-muffled chugga-chugga riff keeps the shadows dark and there's a double kick drum rumble that brings the black clouds closer. Just when you thought you were safe into the ghoulish metallic depths, that infernal (and not in a good way) guitar squawk is back, and singlehandedly ruins "Black Candy." I can't say that I know PRONG material at all, but if this is what guitarist TOMMY VICTOR brought to that band, I'd be just as happy to stay ignorant. The bottom end is comfortably covered by STEVE ZING (bass) and JOHNNY KELLY (drums on all but "Black Candy," which finds Glenn behind the kit); Zing is a holdover from Danzig's Samhain days, and also coincidentally played drums for the post-Misfits outfit THE UNDEAD, headed by BOBBY STEELE.
"On A Wicked Night" gives the head fake with its folky intro, like JIMMY PAGE was distracted from reading his Crowley tomes long enough to rip off some BERT JANSCH material again, but the band kicks into full gear and the mix opens up enough to let Glenn's voice take center position instead of trying to clamber over everything else to be heard. The best chorus of the album has wisely been saved for the de facto title track (well, 'Deth Red Moon' is close enough of a match to count), and recalls the prime cut catchiness of notable Misfits and Danzig songs. Ah, now we're getting there.
'Night Star Hell' swings from its rusty chain like a decent High On Fire outtake, and the record nears the close with a two part 'Pyre of Souls' suite, the first being sung/chanted vocals, echo-laden piano and simple chimes, the perfect soundtrack for a processional down a darkened cathedral aisle. The second part keeps the same motif, but with the full band in hair-swinging rhythm behind it. A cinematic "Left Hand Rise Above" tries to apply a stately pallor as a finishing touch, but once again Victor's predilection for the squeak can't be suppressed. If someone had hidden his b and e strings and forced him to just play the bottom four strings, the record would be improved for it.