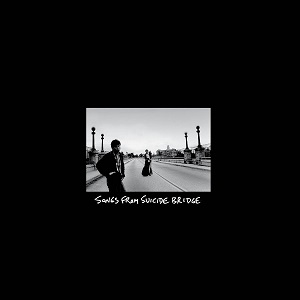 7 June 2015
The story of David Kauffman and Eric Caboor is one of satisfaction through heartache and song. The two found one another playing empty coffeehouses in California; Kauffman coming from Jersey to find a music career in L.A. and Caboor residing in nearby Burbank. After years spent being passed up and finding themselves left to their own devices, the two self recorded their most low down loner folk anthems on 4 track in Caboor's utility shed back in Burbank as a final farewell to the industry that denied them.
What came out of those amatuer sessions was Songs From Suicide Bridge, a sadly beautiful collection of songs filled with outraged heart and longing. Originally released in 1984 on their own label Donkey Soul Music, the album was limited to 500 copies and was seemingly lost in the used bins, antique stores and pawn shops of the West Coast. Thankfully the fine folks at Light In The Attic have gotten this quiet masterpiece back in print; featuring a full remaster, gatefold jacket and liners/interview by Sam Sweet.
Kaufmann's opener "Kiss Another Day Goodbye" is one of those songs that hit you hard in the right circumstance. It perfectly captures the feeling of being alone and how sadness can be as healing as anything in this world. Caboor's "Angel of Mercy" is another burner that harks back to the finest lost folk rock of the 70's (Danny O'Keefe gets a thank you in the liner notes). A fine example illustrating that the unfortunate duo just wasn't made for their time.
Kaufmann's "Life And Times On The Beach" is an almost folk prog suite filled with scathing childhood memories and earnest deep thoughts and Caboor brings it sweetly home on closer "One More Day (You'll Fly Again)." Here the two take all of the frustrations of failing and create beauty in acceptance. The "two loners who happened to join forces," as Kaufmann put it, are so in sync on this solemn tune leaving with Caboor singing, "Another town another song/Is it right or is it wrong?/You're on the ground, but not for long/You'll fly again/You'll fly again."
Songs From Suicide Bridge is not just a record for collectors. It's an album for anyone who's put their heart and soul into something, to see it crash and burn. There's a peace to accepting failure and Songs From Suicide Bridge is the sound of that peace.