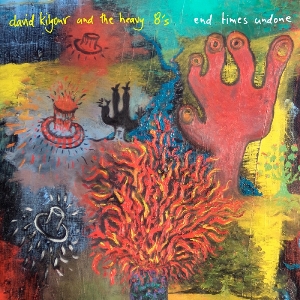 21 July 2014
I have a theory. It seems each album from David Kilgour is like a chapter in a book, a continuance of a story. Every record contributes to a body of work that is naturally and constantly binding itself together, album by album, song by song – creating something that's increasingly cohesive yet still has room to expand and develop.
Kilgour's newest chapter, End Times Undone, upholds this theory with a collection of songs that lie between his hazy jangle and that heavenly heavy-vibed treble clang only he can produce. Album opener, "Like Rain" begins with a clouded chime that finds it's way to a groove that is similar to the album's final track "Some Things You Don't Get Back." The track carries many reminders of Kilgour's past works without feeling like repetition or passivity and provides a clue to Kilgour conceivably considering his songs as cycles versus finished/contained units. "Lose Myself in Sound" builds off of his classic 1991 solo album Here Come The Cars (reissued by De Stijl Records in 2012). The skeletal verses and short turnarounds allow for gain heavy jams and jazzmaster blasts of the highest order.
Instrumental track, "Light Headed" plays nicely with a few spoken vocals buried in there and gives strong evidence that The Clientele have stolen from Kilgour more than once before. Early single, "Christopher Columbus" jives with the flourish and charm of album opener "Like Rain" while "Crow" works as an exploratory guitar workout with a few spoken words – is Kilgour sending some hidden messages? On "Dropper," DK brings the rock and taps into Freedom-era Neil Young with a monster sound not unlike Young's "Don't Cry." "Comin On" and "I Don't Want to Live Alone" are intimate Kilgour tunes that expose both his immense influence on prevailing indie sounds and his acute ability to create melodies that feel lasting, wise and cool simultaneously.
Album closers, "Down the Tubes"and "Some Things You Don't Get Back" are the crowning achievements on the album. Both are shining examples of an artist who completely understands what their contribution is and how to present it. The looseness that the band achieves on the latter is nothing short of perfection and is proof that Kilgour shows no signs of letting up anytime soon.
End Times Undone is another artistic triumph from a lifelong artist, each song a well crafted sentence in another captivating chapter. I hope the book never ends.
comments powered by