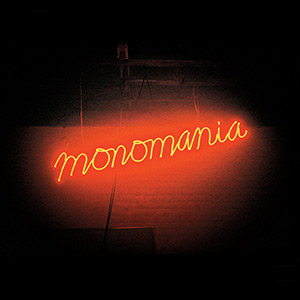 14 May 2013
A few things I haven't read about Deerhunter's Monomania yet.
1. There's a showstopper, and it's called "Nitebike." The story of Monomania is the story of Bradford Cox continuing to shed every last inhibition as a singer, and on the melody-less, irreplaceable "Nitebike," he's really alone, singing no two words in the same voice, finally become the great soul singer he can only be because he imagines he's not, or doesn't care, or something.
2. There's an absence of humor and sex in Deerhunter's lyrics, I've heard, and that's probably true, but what exists in their place is a lot more open than those things could possibly lend. On Monomania, Cox the lyricist maintains his open and unthinking access to feeling. It might lack the scary proximity to subjects and heavy emotion of Halcyon Digest ("Why's it so sad?" someone asked, and the question felt like a triumph), but its songs are still narrated in an old-fashioned and selfless sort of way. There's no "it's not a house anymore" or "now they are through with me" or "I never lived on a farm," but there is "Punk," one of the most apt sequences of verses an artist ever penned. The narrator cycles through the phases of his earlier life ("for a month," "for a week," "for a year"), then scrambles them, and even if the song then dragged out into a long, quickening noise swirl, repeating and mutating the phases, it would destroy your concept of self no more thoroughly than it already does, with less effort.
3. This band has an amazing talent for achieving its goals (i.e. achieving types of albums) and Monomania is the album as foretold, a poor white fantasy of Bo Diddley and John Lee Hooker excerpted from all night noise sessions, or whatever version of its genesis you find most compelling. You can spend a lot of time imagining the Monomania sessions, and then hear them edited into these arbitrary cuts, finally not so arbitrary, because this is the specific record that resulted. There are tangible lost possibilities here (you can hear them, making their realized counterparts even more a perfect fact), so that every real sound represents a choice. When a song can go a million ways or make a million sounds at any moment, what actually occurs becomes a series of clues. That's the kind of music that persists, that rewards study, right? Do I need to provide evidence that Monomania contains such, or does saying it's so make it so? Either way, however many albums you imagine here, you only remember one. Meticulous sequencing1 troubles unprecedented sound2, and reality troubles infinity.
1 Meticulous sequence #1: The riff of "Dream Captain" itches so bad that it takes two subsequent songs for it to dissipate, first muted in high frets on "Blue Agent" and then dreamy and pretty much gone by the time of "T.H.M."
2 Unprecedented sound #1: The "nownownow" culmination of "Sleepwalking," so dense and feverish. The following drop in density and briefly confounding return to normal momentum (a ticking guitar) has precedent (Catherine Wheel's much more elaborate "Strange Fruit," etc.), but the breaking point sounds rescued from a dream.
4. It's not scuzzy. There's a pretty consistent layer of analog filth, but the music as always comes across as immaculately clean, purified by art. "Art damaged" is a useless term that still gets used a lot (I've used it myself); "art purified" is probably no better, but seems appropriate for this band.
5. It's a dance record. And if you're the kind of person who won't dance to anything else, the desire to dance to this music is an invitation to its magic.
6. This is a special band. It continues to feel inappropriate, like it always did with R.E.M., to talk about them in the same terms and in the same places as other bands. So it goes, but if only there was some other way to express Deerhunter, like via the century smear of Michael Stipe's tumblr or a traveling exhibit of a living, breathing human or something equally imprecise. Profiles and interviews, so riotous with amazing details, won't capture them. Nothing more than listening will do.
7. I haven't heard the new album by Savages yet, but the title's a killer: Silence Yourself, a response not to those old songs by Madonna and NWA but to a more recent and vain kind of self-expression, with emblems and tattoos worn for their own sake, with no meaning, to no one less than the wearer. When I saw Deerhunter performing "Monomania" on TV, with stage blood and wigs and rehearsed exit, I thought maybe they'd embraced theater as an end in itself, that maybe their new mission was to achieve effects, that maybe Sharon Needles would show up on their new album. But then I listened more closely to the music and realized no, these songs are so physically needful, you couldn't accuse the makers of being any less honest than animals. I can't think of a band that silences itself more completely for its art.