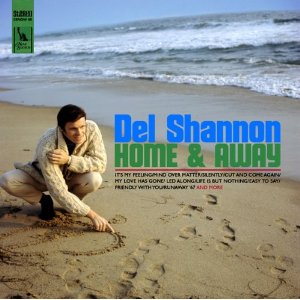 14 January 2013
In 1967, on a promotional trip to England, the rocker Del Shannon met with impresario Andrew Loog Oldham. The two of them hit it off; Oldham signed him to his label, Immediate and soon Shannon was recording songs in Olympic Studios, using material from Oldham's publishing catalog. These songs were then supplemented with lush orchestration and arrangements, added to a backing band that featured such luminaries as Steve Marriott, Billy Nichols, Nicky Hokpins, and Andy White. Oldham believed that Shannon should receive the Phil Spector treatment, and that's exactly what happened. Yet this pet project would suffer when Oldham's clients in the Rolling Stones were arrested on drug charges, and his involvement with Monterey Pop demanded too much of the impresario's time. Thus, this ambitious project was shelved, although a few songs did slip out over the years.
Oldham's instincts were correct, and Home and Away's songs show that Shannon's voice worked well with lush, Pet Sounds arrangements. However, it is not surprising that the record was shelved, either; as 1967 progressed, the lushly produced pop found in "Cut and Come Again" and "Easy to Say, Easy to Do" would become passe, as rock grew into something heavier, something harder. Home and Away shouldn't be dismissed, either; fans of The Zombies and The Turtles and The Association will find plenty to love here, not least of which is a baroque-pop remake of his hit "Runaway," which slows down the tempo, but doesn't lose any of its potency; it's interesting to hear his falsetto in such a different setting, and one can't help but wonder if George Harrison heard "Friendly With You," as the melody line seems quite reminiscent of "While My Guitar Gently Weeps."
Del Shannon may have missed the boat by a year or two, and it's a shame that these tapes were lost in the vaults until now, but fans of the Baroque pop of the mid to late 60s will most certainly enjoy this lost treasure.