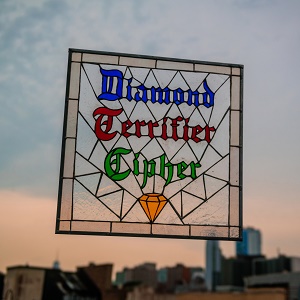 11 November 2017
Between blowing minds with Zs albums, sax god Sam Hillmer devotes time to his solo noise/drone project Diamond Terrifier. Now expanded to a quartet featuring Cibo Matto's Miho Hatori and multi-instrumentalists Micheal Beharie and Don Devore (Collapsing Scenery), the newly established unit releases its first EP as Diamond Terrifier Cipher.
Chapel Master pushes Hillmer's work further into the Upside Down. Post-jazz, -noise, -EDM and just about everything else, it peers into a cyberpunk future that Sun Ra could only imagine. Electronic beats provide tribal percussion a la Pan Sonic, laying the backbone for synths to squelch, drone and arpeggiate as Hillmer's distorted saxophone boldly skronks in vocal duet with Hatori's bizarro singing, which treads the line between psychotic schoolgirl and extra-terrestrial. It's not merely futuristic, but other-dimensional – the classical music of an entirely different plane of existence.
As always, Sam Hillmer pushes the limits of our musical vocabulary into unidentified territory. Now Diamond Terrifier Cipher reveals what lays just on the other side. All you have to do is take that step.
comments powered by