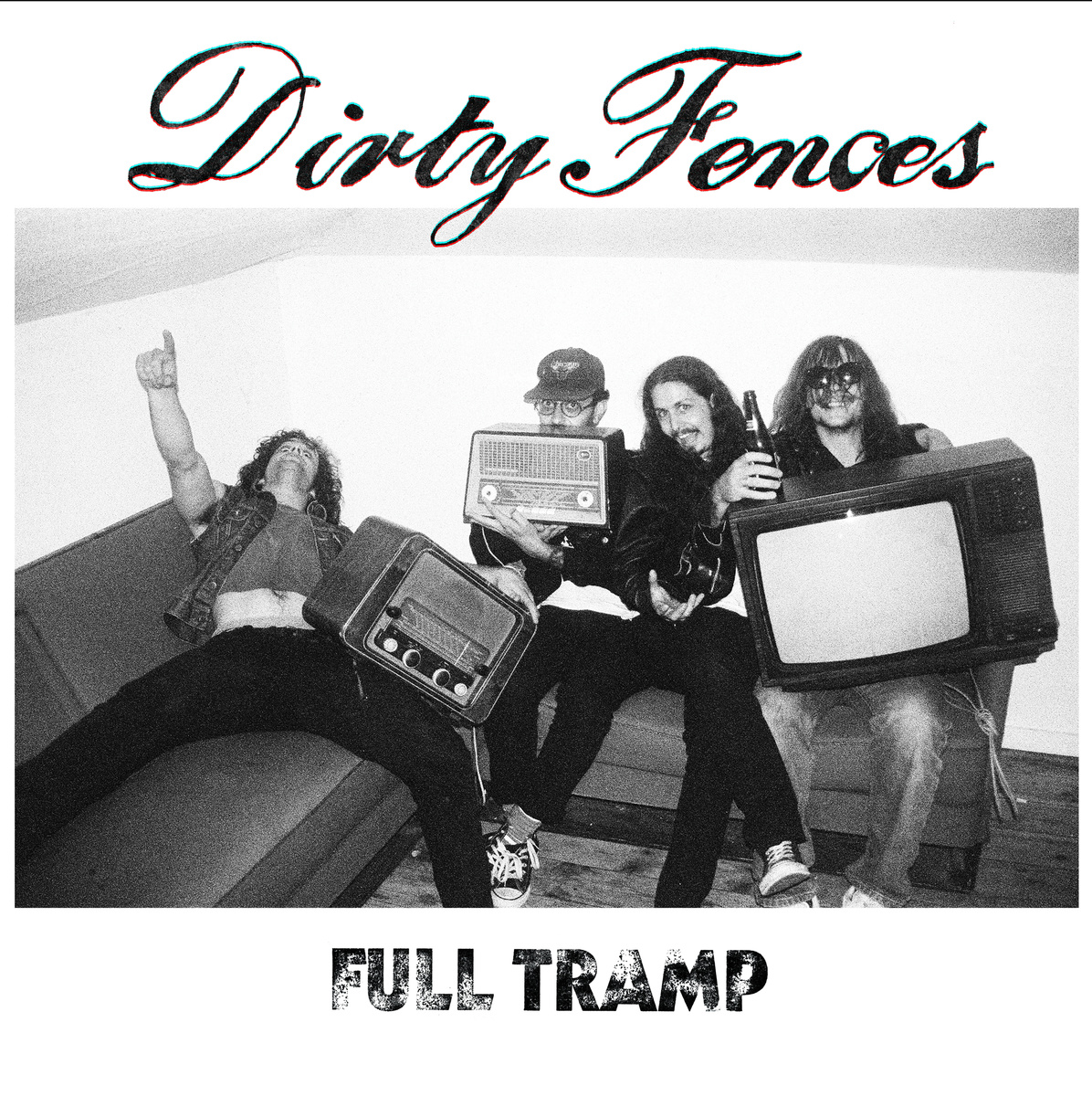 20 May 2015
There is a new class of glorious punk rock groups that aren't nearly as precious about their roots as most of their immediate predecessors. These are bands that sound like their record collections have just as many LP's from Tom Petty and Blue Oyster Cult as they do The Ramones and The Clash. Culling the classic psychedelic garage rock aesthetic of groups like The Sonics and The Electric Prunes, these newer bands play as loud and hard as they can and forget about the rest. I'm talking about recent favorites like Brooklyn's Nude Beach and San Francisco's OBN III's. Now, with the release of their new LP Full Tramp, I can include Dirty Fences in that category.
Brooklyn's Dirty Fences are Jack Daves (guitar vocals), Max Comaskey (bass vocals), Max Hiersteiner (drums vocals), and Max Roseglass (guitar, background vocals). On Full Tramp, the band pay equal homage to all that is pure rock music. This is the kind of band that New York is so good at producing; the kind you want to hear blowing out the PA at some shithole dive bar that was packed beyond capacity before they even took the stage. This is fast, sweaty music that exorcises a month's worth of aggression without anyone getting killed (hopefully).
The most striking thing about Full Tramp is that the songs themselves are completely timeless. A track like "Endless Party" could have fit at home just as well as a Ronettes' single as it would buried deep on a Flamin' Groovies' LP as it does here. Of course, the difference is how the band approaches playing the song. That is indeed all the difference in the world. The starring role on the LP goes to "Judy (Don't Go)". This is nothing short of a classic rock song. Reminiscent of the great proto-punk of Eddie & the Hotrods, "Judy" will have you wearing a leather motorcycle jacket before a first listen is over. That kind of epic singalong chorus is the basic genetic code to just about every truly great rock song.
Dirty Fences aren't trying to change the world. Full Tramp is full of silly love songs played with the raw energy that doesn't just define punk rock, but all rock music. In a day and age when having 'good taste' in music means you have to slug through endless repetitive synth pop, 'genius' hip-hop riffs about blowjobs, and bedroom project singer-songwriters whose music all sounds like variations on a suicide note, this album makes for a monumentally important pallet cleanser. Anyone familiar with my writing knows well that I will take dumb, rock n' roll fun over the geniuses anyday. Yet, even amongst other dumb bands, Dirty Fences are an easy recommendation as one of the dumbest of the bunch. Long live RAWK!