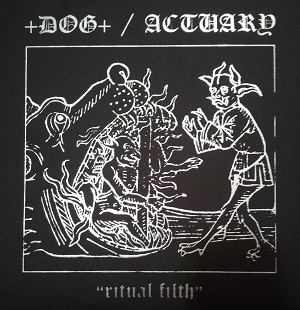 8 October 2014
Having not collaborated on vinyl since 2009's Concordia Dischord 7", two stalwarts of the Southern California noise scene, +DOG+ and Actuary, come together once again with a dark noise attack perfect for the burgeoning fall.
On "Halcyon Days Revisited," +DOG+ unleashes a wall of throbbing static, the insisent buzz of an empty power plant in a field that continues as long as there is energy. Demonic whispers emerge from the electric hum, augmented by full force power electronics and an uneasy feeling that all is not right in the world. Actuary's "Inconvenient Gift" is even darker, beginning with ghostly tones and morphing into pure screeching blackness. Rumbling squelch gives way to chirping frequencies which coalesce as the track builds into tortured, junk-ridden soundscape of despair.
Together, +DOG+ and Actuary have provided the perfect soundtrack to the waning daylight that glides us toward winter. Keep the lights off and the volume high, then wonder if the dancing shadows are just figments of your imagination.