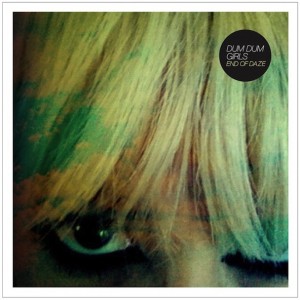 28 September 2012
So how do Dum Dum Girls follow up the best album of 2011, the amazing Only in Dreams? Amazingly, this brand new five song EP may even top Only in Dreams as they just keep on improving.
If last year's four-song "He Gets Me High" EP was a nice stopgap between their 2010 debut album I Will Be and Only in Dreams, then this EP is also a stopgap between Only in Dreams and a new full-length that is still a work in progress. However, just like "He Gets Me High", this is no more stopgap. While "He Gets Me High" were Dum Dum Girls' 1st recordings in a proper studio and while it showed off a less lo-fi sound, showcasing Dee Dee's amazing vocals, this EP expands upon their earlier releases while adding some significant new elements to the mix.
Also, while most of the material on "He Gets Me High" sounded like a caffeinated rush, a seductive high, with the exception of the slow-burning ballad "Take Care of My Baby", this EP is more of a slow burn though it is immediate just like their previous releases. And furthermore, the subject matter of End of Daze (the title of which comes from the EP's last track, "A Season in Hell") is far darker, dealing mainly with death and in the case of the absolutely stunning cover of Strawberry Switchblade's first single "Trees and Flowers", agoraphobia (a condition which Dee Dee has admitted to suffering from in the past). It's unclear if the passing of her mother is behind these lyrics or if it's something else, but the lyrical content of songs like "Mine Tonight" and "Lord Knows" are proof that Dee Dee is still a self-identified "darkling". There is hope at the end of this bleak tunnel, though, as the end of "A Season in Hell" attests. It's as if we are waken from a weird, dark dream and when we wake up, we realize it was just a dream. Or was it?
Musically, Dee Dee claims inspiration from The Cure's Disintegration (a touchstone for Only in Dreams as well) here alongside Pale Saints' The Comforts of Madness and Julee Cruise. It's hard to detect those specific influences here, but on a whole "Lord Knows" doubles down on the "slow burn" shoegazer vibe of "Take Care of My Baby" and "Coming Down" (from Only in Dreams) while "Mine Tonight," "I Got Nothing" and "A Season in Hell" are slightly more reminiscent of some of the faster material found on Only in Dreams.
Other than "Lord Knows" (which also features a stunning video), the absolute highlight here is the aforementioned cover of "Trees and Flowers". I doubt I will hear a more haunting, vulnerable, sad and affecting song this year.
All in all, I think this may be Dum Dum Girls' finest moment up to this point. I hope they continue to get even better, but either way I can't wait to find out where they go next.
comments powered by