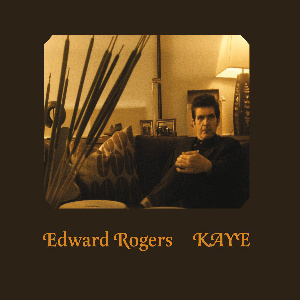 16 July 2014
Dedicated to founding member of Soft Machine and prolific solo artitist, Kevin Ayers, NYC-based singer-songwriter Edward Rogers delivers a powerful fifth album inspired by the psychedelic rock of 1970s England.
Far from the somber James Taylor or Carole King mood that the "singer-songwriter" tag typically conjures, Kaye gleefully rocks right from the beginning. "My Street," an earnest look at the way New York City has changed over the years, opens like "Rocks Off" on The Rolling Stones' 1972 classic Exile on Main St. – all energy, honesty and balls. "No Color For Loneliness" follows with a bit of psychedelic cowboy funk a la Quentin Tarantino, while the cover of Ayers' "After The Show" packs the punch of a nasty Ray Davies sneer. Things get extraordinarily heady on "Street Fashion," which artfully blends punk rock with UFO-era psychedelia, though afterward, the songs grow slightly quieter without losing integrity, residing in an area occupied by Peter Gabriel, Peter Hammill, The Kinks and early Ultravox. "Peter Pan's Dreams," returns to the heavy psyche sound, recalling The Deviants, Hawkwind and Twink, perfectly setting up the ending reprise to "Borrowed & Blue," a mind-boggling cloud of LSD-25. Of course, none of this could be brought to life without the musicians, who have played with such diverse acts as Roxy Music, The Smithereens, Psychedelic Furs, Ian Hunter and Sic F*cks.
With Kaye, Edward Rogers firmly places himself in the canon of solo artists who consistently persevere beyond the boundaries of fads, like early Lou Reed, David Bowie, Iggy Pop and John Cale. May he continue on this path with equal fervor.
comments powered by