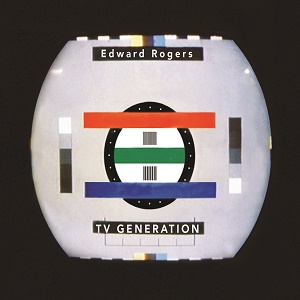 7 June 2017
New Yorker Edward Rogers returns with his strongest and most varied album to date while examining America's cultural obsession with the boob tube.
The title track opens with a Hawkwind-like blare questioning the role of television in our lives, seguing perfectly into the Bowie-esque self-explanatory lament of "20th Century Heroes." "No Words" recalls Scott Walker's early solo orchestral pop and "Gossips Truth and Lies" conjures the Gene Clark spirit of early Byrds. "Wounded Conversation" returns to Bowie territory, albeit the quieter side, followed by the Led Zeppelin tinged rock ballad "Listen to Me." At the center, "Sturdy Man's Shout" delivers some fine early '70s Rolling Stones grit, while "On This Wednesday in June" has a Bruce Springsteen vibe. "Terry's World" stems from the psychedelic folk of Syd Barrett and Kevin Ayers, but "The Player" betrays a Kinks influence. A bit of The Zombies comes out in "You and I," with "Alfred Bell" and "She's The One" returning to The Kinks and Hawkwind, respectively. An ultra-psychedelic remix of "TV Generation" provides the perfect bookend for an album full of vibrant personality and insight.
Edward Rogers certainly shows no signs of slowing down. In fact, the past year's current events as seen through the eye of the idiot box seem to have inspired him more than ever. Perhaps our new regime will make music great again after all.
comments powered by