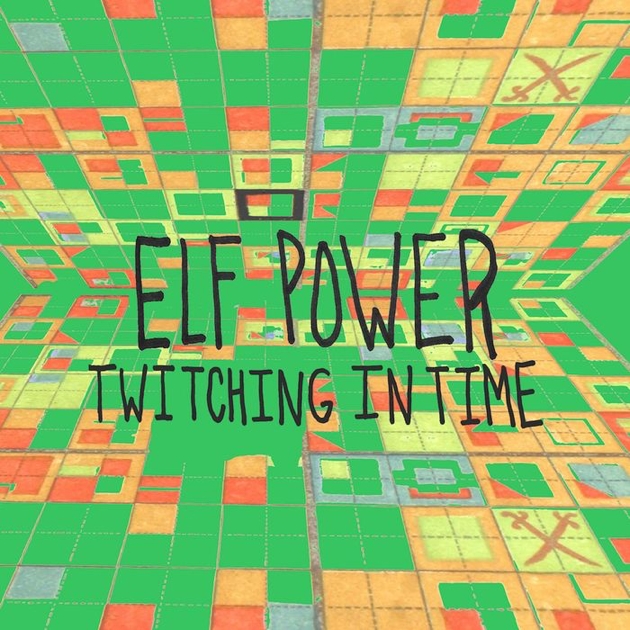 25 May 2017
Elf Power are among the few bands from the already exclusive Elephant 6 Recording Company that continue to make music to this day, and their prolificacy has been an absolute treat to fans. They boast a discography that competes in volume only with of Montreal when compared to others in the Athens, Georgia collective. However, while Kevin Barnes has since led his troupe into an evolution resulting in a musical theatre of progressive pop – a far cry from Cherry Peel – Elf Power have retained their formula from the earliest records, an essence unfettered throughout their 23 years together by forays with production whiz Dave Fridmann or collaborations with Vic Chesnutt. So much of the band's power is in their reliability and Twitching in Time is no less dependable when it comes to searching for that idiosyncratic, classic Elephant 6 sound.
Keyboardist Laura Carter is quick to make an impression on their latest record with her moving piece "Watery Shreds," a piano ballad that fits time signatures 6/4, 7/4, 5/4, and 3/4 into its first minute of runtime before bursting into a swell of drone guitar, like an elegiac cousin to "The Albatross" from The Winter Is Coming. After an eerie beginning to the record, the sun emerges from the clouds and as you listen onward, the band's jovial disposition takes hold. In "All Things Combined," Andrew Reiger sings, "Free yourself from a guilty brain/Take a break from eternal pain," which seems to be his modus operandi for the group's sense of purpose. Rieger's vocal demeanor has always possessed a chanting quality – somewhat reluctant and more concerned with clarity rather than melody, as if he's reading off prophecies from an ancient text or ingredients to a potion. Even when the band is having as much fun as possible, say for example in the anxious refrain "I don't mind, no I don't mind the separating fault" from its namesake song off When the Red King Comes, one can imagine an invisible threatening whip crack keeping Rieger's nervous energy at peak condition; some artistic Milgram experiment responsible for his distinctive delivery.
Now fourteen albums deep, Rieger is still endlessly dedicated to crafting power pop by way of the fuzzy, chugging powerhouse "Melted Down" and wistful "Too Many Things in My Hands;" the latter of which features one of his greatest funny/sad lyrics: "I can see you out there in the backyard/Dissolving like the dog shit in the rain." Its imagery along with the song "Withered Husk" might lead one to believe that Rieger's developed a sudden morbid interest in aging, which isn't unthinkable given Elf Power's tenure. If so, it certainly has not left Rieger, Carter, and company creatively bankrupt – the beauty to their sentiment is just as vibrant as their spirit upon inception.
You may purchase the record here.
comments powered by