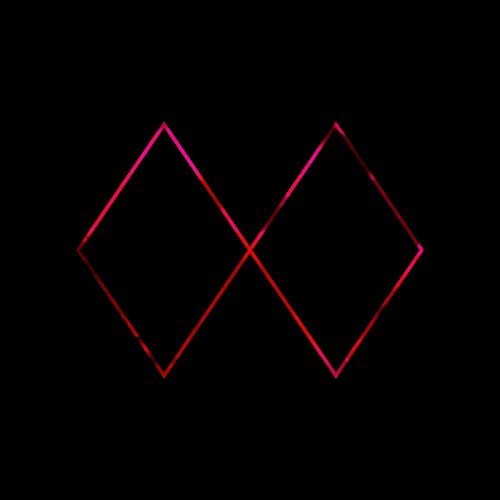 25 May 2017
In 2014, English electro/indie pop quartet Mt. Wolf faced an identity of sorts crisis when vocalist Kate Sproule—who appeared on 2012's Life Size Ghosts and 2013's Hypolight—departed to focus on a solo career. Initially, the remaining members (drummer Al Mitchell, guitarist Stevie McMinn, and singer/producer Sebastian "Bassi" Fox) called it quits as well, but eventually felt that the need to soldier on "like a sublime three-headed phoenix rising from the ashes," resulting in two celebrated EPs: 2015's Red and last year's Hex. Now they've returned with Aetherlight, a mesmerizing LP that demonstrates just how strong Fox is as a lead singer, as well as how haunting and beautiful Mt. Wolf remains as a trio.
The brief "Intro" implies the affective atmospheres to come, as delicate chimes bounce around ominous drones and moody guitar notes. It's a short but impactful emotional journey that serves as a treasured appetizer to "Heavenbound," the album's first proper song. It maintains a similar vibe as its predecessor while acquainting listeners with Fox's low romantic murmurs and poetic sentiments ("I will see you again / When the pendulum ends / My old friend"). In a way, he sounds like a heartbroken lounge singer who exudes classy wisdom rather than cheesy histrionics. The arrangement becomes equally operatic at times, with acoustic guitar strums and subtle strings adding lusciousness to his dense chorus. Halfway through, an electric beat adds variety to Mitchell's refined percussion, and overall it's a fine example of how Mt. Wolf fuses approaches to yield gorgeous results.
Although a couple other tracks—"Dorji" and "The Electric"—walk a similar path, most of the other songs offer something quite different. For instance, "Soteria" is a sparse and ethereal soundscape in which Fox uses his falsetto range to generate mournful reflections and echoes over light acoustic guitar chords and syncopation; "Hamburg" takes the electronic influence even further, evoking artists such as Neverending White Lights and Barbarossa; and "Bohemia" is an overwhelmingly serene and profound near-instrumental whose central orchestration and backing chants would fit perfectly during the catastrophic finale of a film or TV drama. The standout piece of this style is "Hex," a devastating collage of strings, arpeggios, and high-pitched laments that will shatter and stay with you (especially its hook: "It will be hard to break for me / It will be hard to break for you"). It's just about as exquisite and artful a display of lost love as I've ever heard.
Towards the end of Aetherlight, "Anacrusis" adds a rock edge to the mix, while "Tucana" mixes an acoustic ballad with a hip-hop beat. Oddly enough, the instrumental "Starliner II" (the spiritual successor to Life Size Ghosts' third entry) captures the aggressive percussion and touching textural tinkerings of Pineapple Thief suites like "What Have We Sown?" and "8 Years Later." Cleverly, closer "Exit (with Burgs)" basically adds a bit of prophetic narration to "Intro," conveying a strong sense of spiritual growth and conceptual continuity. It's the final notch on a lengthy belt of reasons why Aetherlight is a brilliant return for Mt. Wolf. Don't miss it.