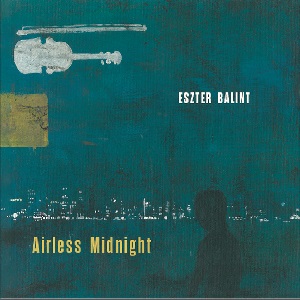 29 July 2015
Songwriter/actress Eszter Balint (Louie, Trees Lounge) finally returns to music after eleven years with a third album that accentuates her power as a musician.
Airless Midnight recalls the sparsely intimate pain of Liz Phair's debut, Exile in Guyville (Matador, 1993). Backed by guitarists Chris Cochrane (John Zorn), Dave Schramm (Yo La Tengo) and Marc Ribot, along with bassist JD Foster and drummer Brian Wilson (Neko Case), Balint, in a sexy, breathy voice embodying Keren Ann's inner strength, unravels tales of one-night stands, flaky lovers and disappointment. Quiet ballads, like "Exit 63" and "Silence," evoke bitter loneliness, while the driving post-punk of "Let's Tonight It" and "All You Need" explode with teeth-gnashing rage, particularly in the latter track, where Balint transforms her violin into screeching sonic weapon to accompany her vocals, which reach the sneering rasp of Throwing Muses' Kristen Hersh. It's an album of hurt, but also of the scars that turn to armor as time as life goes on and another morning greets us with a new palette of mistakes to suffer.
Fortunately for us, Eszter Balint is back with a refreshing smack in the face to wake us out of our numbed existence. Let's hope she's here to stay.
comments powered by