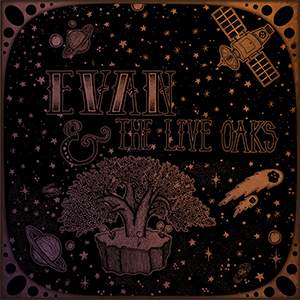 13 March 2018
A bright light in a Bay Area music scene which otherwise seems progressively uncertain about its future, Evan & the Live Oaks thrive because they tap into music traditions which have existed in American music from the beginning. The band's style is impossible to pin down to one specific era although it undeniably lurks somewhere in a nostalgic, idealized past, and their new EP, Hyde Street, is at once both soulful and folksy. The spotlight is more on lead vocalist Evan Lanam than before, but it still feels like a collaborative project giving the proceedings a collective atmosphere.
Whereas their previous release, Back Focus, felt raw and impromptu like The Band's Music from Big Pink, the three songs on _Hyde Street give the listener the impression that they were consciously-produced, with a bigger and fuller sound. This bigness is best exemplified by "Home" which has that spacious '80s sound following in the footsteps of the arena roots rock of Dire Straits. "On the Otherside" is the only song here that is somewhat laid-back, nevertheless featuring fantastic guitar work, and the closer "Maybe Later" is emboldened by a loose and dirty horn section.
It's impossible to not feel like the EP is just starting to warm up by the time it's over. It could have benefited by, perhaps, one more track, but what is here shows a tremendous amount of artistic growth and maturity.