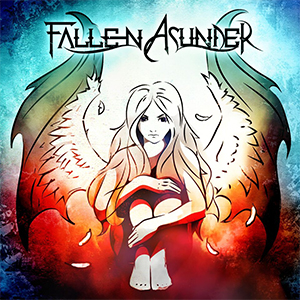 28 November 2016
A project between two childhood friends, Lancaster's Fall Asunder is a metal band on an emotionally dramatic and theatrical scale, with songs packed full of climatic guitar solos and lyrics drenched in passion and feeling. Their debut album, also called Fallen Asunder, is inspired by the likes of Bullet For My Valentine and Avenged Sevenfold, and it's obvious that both members, Ryan Batturs (vocals) and Josh Weaver (guitar) love and emulate their influences to a T.
Although twelve tracks long and most songs run over the four minute mark, it's a record that feels like it's passing at a breakneck speed, between Weaver's lightning fast guitar playing and Batturs's gut-wrenching vocals wrought with heartfelt emotion. Songs like "The World And Fate" and "Free Will" best represent the power and force behind the album, but others like "Meant For So Much More" show off a decidedly poppier side of the band.
Fallen Asunder occasionally gets lost in trying to sound too much like its influences, rather than striking out for something new, but it nevertheless remains a promising debut from a band who have clearly put everything into it.
comments powered by