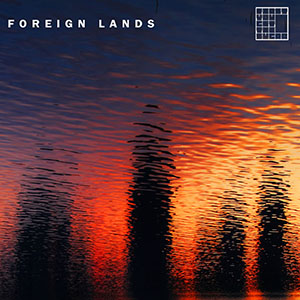 12 November 2014
Montreal's First You Get The Sugar have all the makings to be the next indie darlings. On their new Foreign Lands EP, they show off a stylish, polished brand of pop, injected with a dark and stormy undercurrent. The four piece display a varied bag of influences, and in turn create something entirely new and utterly infectious over the course five songs. The opener, "Foreign Lands," is all at once danceable, rocking, and even a little post-gothic, like the poppier child of Bauhaus. It's followed by the even darker "To Be Great," which does a marvelous job of folding in layers of synths.
"Real Burnout" is, perhaps, the most surprising song here. Disregarding the broodiness of the EP before and leading no clues to the contemplative sound following it, it may at first sound out of place, but it is nevertheless a strong highlight here; a rave-up undoubtedly inspired by proto-psychedelic, _Revolver_-era Beatles and the mod posturing of The Jam. "Kick It" is the softest and most subtle song here, a moody acoustic number with absolutely beautiful harmonies, and the final song, "Point Reyes" brings back to mind the earlier songs on the EP, but it also much more relaxed and melancholy comparatively.
Without spoiling any more of the delights to be found within this little body of work, the best way to experience Foreign Lands is really just to listen to it. It's now available from the band for free on their Bandcamp.