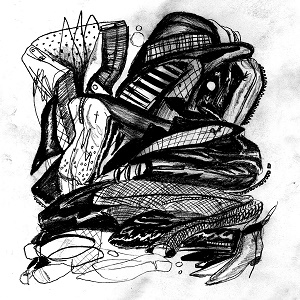 27 October 2016
Dark SoCal punk trio Girl Tears finally follow their excellent 2014 debut with an even angrier sophomore release.
Clocking in at eighteen songs in twenty-two minutes, Woke Against The Tide picks up where Tension left off. Better production and stronger songs, some even featuring the occasional bass-driven feedback attack, all enhance the same frenzied hardcore we heard two years ago. Musically, it draws from the annals of punk and hardcore, from The Ramones to Black Flag and beyond, especially The Germs, early Agent Orange and your favorite LA-based Killed by Death band, while the vocals evoke a tormented blend of TSOL's Jack Grisham, Misfits-era Glenn Danzig and a young Robert Smith circa The Cure's Boys Don't Cry, with just a touch of Nick Cave in his earliest Birthday Party years. It's punk the way you remember it – straight up, no frills and just psychotic enough to make your friends question your judgement.
Punk may be dead to some, but it's clearly alive and well in the bowels of Southern California. Let Girl Tears remind you why you got into it in the first place.
comments powered by