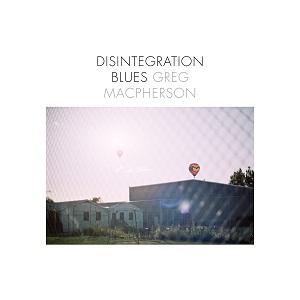 30 December 2011
Six albums and over a decade into his career, Winnipeg guitarist/singer/song-writer/ activist/Disintegration Records boss Greg MacPherson is refusing to let up. MacPherson has followed up his Polaris-prize nominated 2010 album, Mr. Invitation, with an album, Disintegration Blues that is often, to use a phrase from the album, "jacked-up loud and on the verge of distortion".
On this album, MacPherson receives able support from a pool of musicians that includes both members the label-mates Cannon Bros. as well as Jason Tait of The Weakerthans. No matter what the backing band does though, this is MacPherson's sandbox. It's his commanding guitar playing and that big voice, which sounds booming at a whisper or a scream, that utterly dominates the proceedings from start to finish. And when MacPherson let's that voice loose on tracks like the post-punk "Frequencies", you'll think he has two bullhorns for lungs.
The album kicks off with a party; a big, surf-rock beat, a catchy guitar lick and a tall promise to 'bring the ocean here' as MacPherson channels his inner Springsteen to create "Party at Greg's House", possibly his most memorable tune. The slow-burning "Ukrainians" find a tense middle-ground between the electric folk of British song-writer Billy Bragg's "Levi Stubb's Tears" and the prairie gothic of Manitoba novelist Fredrik Phillip Grove's Settlers of the Marsh. "Snowman" finds MacPherson deep in character, detailing the thoughts of an abandoned man who "talks too little and moves too slow".
Of course the back n' forth between raging full-on intensity and quiet menace can sometimes tilt too far towards the hushed. Despite the varied arrangements present here, the number of songs with slower tempos can weigh the album down, as it does a bit near the end, with songs like "Long Goodbye" and "Lost at Sea".
Whatever its up and downs, Disintegration Blues is on impressive work on par, with MacPherson's best work like his 1998 debut, Balanced on A Pin and his 2004 EP Maintenance . Ultimately, MacPherson is a man of singular vision and sound who refuses to let up – ever.