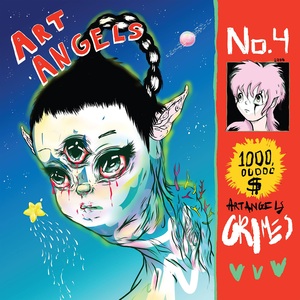 3 December 2015
Make no mistake. The staggering scope, bottomless creativity and remarkable focus of Art Angels by Grimes (aka Claire Boucher) place it on an entirely different level than any other release this year. If 2012's Visions (4AD) was a dream-pop masterclass, Art Angels is a post-doctorate degree in sound and vision. Legend has it that her prior release was tracked entirely in Garageband while the artist was on an extended drug binge. Whatever methodology was employed, that album drew attention to the Canadian's DIY credentials. In addition to writing and producing, Boucher directs music videos and designs her album covers, including the otherworldly illustration which adorns Art Angels. She multitasks while decked out in impossibly cool street fashion and maintains an aura of self-possession rivaling Prince and Bowie at their most whacked out. Grimes is the perfect rock star for our disjointed, uncertain times.
She also has the best songs. While the production on the new album is steeped in the kind of cutting edge EDM chops that Grimes seems to assimilate effortlessly, it is the melodies and hooks that really impress. Track two, "California," is as pure and heartfelt a pop song as anyone has released in the last twelve months. "You only like me when you think I'm looking sad," Boucher sings on the album's most straightforward number. The ecstatic titular vocal hook and clap-along beat leave the singer's contemporaries choking on her alien dust. It's no wonder Grimes was frustrated by the studio misogyny she experienced in Los Angeles. She knew she could do it all by herself and much better.
Single "Flesh without Blood" provides an aesthetic connection to Grimes' past work, but its ethereal vocal and unpredictable melodic twists feel completely fresh. The surfy guitar riff and industrial clatter of "SCREAM" bring to mind a post-millennial raid on My Life with the Thrill Kill Kult's closet, over which Taiwanese rapper Aristophanes spits with authority.
A few tracks coast on style alone and the disappointing Janelle Monáe collaboration "Venus Fly" suggests that one extraterrestrial persona per album is enough. But an aggressively infectious banger like "Kill V. Maim" should silence any dissenters. "B-E-H-A-V-E, Arrest Us!" proclaims Boucher in its J-pop style chorus. She most certainly will not. And that is what makes Grimes the creative juggernaut she is. All hail the new queen.
comments powered by