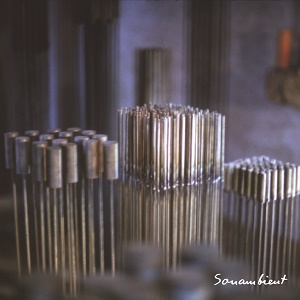 6 December 2016
Following the box set documenting Harry Bertoia's complete Sonambient catalog comes a brand new release of previously unheard recordings that further the legacy of the legendary sculptor/composer.
Where the Sonambient catalog mainly focused on rich textures emanating from Bertoia's Pennsylvania-based barn/studio, these tracks embody a shimmering minimalism, adding a greater depth to the artist's work. "Clear Sounds" builds from a consistent drone of light and dark tones rising and falling to create waves of clanging metal. Hi-, mid- and lo-range rumbles coalesce to create an industrial aria somewhere between Krzysztof Penderecki, Iannis Xenakis and Throbbing Gristle. "Perfetta," composed by Bertoia's brother Oreste, gleams in the sinister shadows of Tod Dockstader's sound effect symphonies, the sound of moving from room to room in Hell. Metallic hiss crests to Himalayan peaks of clanging cacophony before ending in the chimes of a twisted church. It's the perfect beginning to a new chapter in the artist's recorded catalog.
Though he only released eleven albums during his lifetime, Harry Bertoia left behind a library of recordings, perhaps knowing that the future would eventually catch up to him. For that we are extremely lucky.
comments powered by