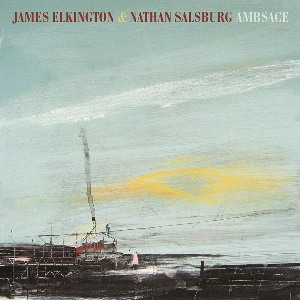 18 July 2015
James Elkington (Brokeback, Steve Gunn) and Nathan Salsburg (Joan Shelley) joined forces back in 2011 on Avos. A guitar duet record that quietly went under the radar of pretty much everybody, leaving only an out of print LP and a lasting collaboration in its wake. Delightedly, the two have teamed up again to show the world how it's done on Ambsace.
Lead track "Up of Stairs" begins with familiar figures before veering slightly off the beaten path; what you get is a track that's smart, amusing and nimble as hell. "Dim Recollection," "Bee's Thing," and "Slow Train" are all sort of modern front porch/easy going boogies that faintly recall John Renbourn and Stefan Grossman's late 70's collaborations (YES!). "Great Big God of Hands" is the highlight. It's overall effortlessness sights why both of these dudes are some of the most highly regarded guitarist in the country.
Ambsace ditches some of the experimental leanings of the previous Avos without giving up any of the spontaneity. There's some additional instrumentation here and there to stir the pot but really it's the two of them going at it. It's almost shocking to hear guitars being played this way in 2015. Just when you think the instrument has nowhere left to go, you're proven wrong by a pair of capable hands. Well, in this case, two pair of capable hands.