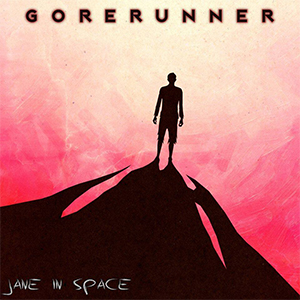 15 July 2018
It's only been two years since the debut album of NYC's Jane in Space was released, but thankfully they haven't waited too long for a follow up EP. The six tracks on Gorerunner pick up where their full-length left off, but it also expands their ethos sonically thanks in part to some help from sound manipulator Keith Hillebrandt known for his work with Nine Inch Nails. Although the influence of both NIN and Depeche Mode is still very strong, one shouldn't ignore the powerful melodic presence that could only originate from vocalist Tom Vickers growing up in England during the height of Britpop.
The lead single "Eat Your Face" is raw and violently primeval in its throbbing, pulsating rhythms, and Vickers' Damon Albarn-esque vocals add an unsettling touch, giving the song a feeling of something out of A Clockwork Orange. Title track "Gorerunner" is perhaps the most sinister of the EP, but underneath the Industrial noises and atmospherics a framework of poppy melodicism is unmistakable. The band threatens to enter Coldplay territory with "Breaking Glass," but it's only a brief detour and fortunately the rest of
Gorerunner contains some of the duo's most aggressively relentless soundscapes yet. Real horrorshow.