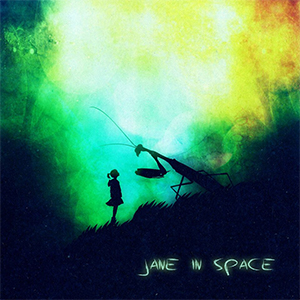 27 July 2016
New York's Jane in Space is a fast-rising trio influenced by the industrial electronic of classic groups like Nine Inch Nails, as well as newer acts like CHVRCHES. Their debut self-titled album is an explosion of dark and pulsating electropop resplendent with all of the brooding theatrics of late-80s Depeche Mode.
Aside from the standard bangs and crashes from machinery and factory floors, there is something inherently industrial about the very core of this album. The ambitious lead-single "Feel It Alive" is built around "the organic way patterns disassemble into new patterns depending on how they are experienced." Singer Tom Vickers echoes this as he repeats the few lyrics relentlessly, but with subtly different inflections.
The group still manages to retain an essential pop melodicism, and songs like "Say Something" and "Mental Abrasions" are filled with infectiously catchy hooks. The album itself, in a way, is a bridge between standard pop fare and the most impenetrable of Industrial and Noise; all the while exposing the commonalities shared between the two sides. Jane in Space, out August 19th on Aion Records, is a record that has been carefully crafted with a sharp attention to detail and the instincts to execute their vision flawlessly.
comments powered by