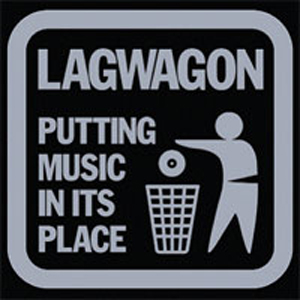 6 January 2012
So as Nirvana's Nevermind got a double re-issue to celebrate its 20th birthday in 2011, now in 2012 Lagwagon's debut album Duh, also titled after a sneering teenage rejoinder, and the rest of the band's albums are getting the deluxe re-release treatment. This sort of record label activity is meant to have critics re-asses band's legacy and to remind listeners that they are now old enough to have a youth to mythologize.
Mythology aside, Goleta, California's Lagwagon, alongside a slew of similar bands like Pennywise and No Use For a Name (a.k.a. 'Epi-Fat bands'), did help turn the expectation of being in a punk band on its head. In the seventies and eighties, most punk bands either toiled in obscurity or changed their styles to adapt to the trends of the day. Following the model of their mentors Bad Religion and NOFX, these second-tier bands held fast to their punk-lite sound (crisp , trebly production, warp-speed polka beats, subtle bass work, metallic guitar lines and simple, sing-along melodies) until the world changed for them. With the rise of the Warped Tour and the massive success of The Offspring and Green Day, these bands by-passed MTV, via skateboard videos, and toured the world selling enough albums T-shirts, stickers etc. to make a living, at least until the great-destroyer, file-sharing, decimated their ranks.
Of course, many of those bands, their labels and festivals live on, hence this massive re-issue campaign Fat Wreck-Chords has undertaken for Lagwagon, which includes both the box set, Putting Music in its Place and individual re-issues of their first five albums. While evolution of sound was antithetical to the Epi-Fat aesthetic, Lagwagon's nineties albums do show signs of change for those who listen. After all, lead singer Joey Cape, sole consistent member alongside guitarist Chris Flippin, is a multifaceted man, who went on to lead the spacier Bad Astronaut, play rhythm guitar in cover-punks Me First and the Gimme-Gimme's and to make a series of solo acoustic albums.
Let us now circle the Lagwagons.
Duh rarely viewed as their best work, does show off all the stylistic elements that would propel the band to mid-level success but missing the musical power and inter-song distinction of their best work. Of course the album still has highlights such as the near-perfect assault on CCR's 'Bad Moon Rising", the Descendants-like, "Mr. Coffee and, one of their finest songs, the thoughtful, melodic "Angry Days." Like their fellow Fat-mates, Propagandhi, Lagwagon's sound originates in the thrash-metal era, for proof of this check out the extra CD of eighties demos by the band (then known as Section VIII) which show them to be a passable, if late to the game, thrashers.
Trashed shows the band building it's sound. Sure, Cape still sings a bit like cross between Fat Mike from NOFX and Ronnie James Dio in his Black Sabbath era, but that became part of the band's uniqueness. Speaking of label honcho Fat Mike, he drops by to sing on "Lazy" and stays in the producer's chair (alongside Donnell Cameron). Some might dismiss the album as More Duh ; full of stop-and-start arrangements, modest-sized hooks, adolescent angst and of course the mandatory punk cover, Them's "Brown-Eyed Girl" in this case. Regardless of the band staying in the infamous Fat Wreck-Chords holding pattern, Lagwagon was beginning to set their own agenda. "Know It All" is a catchy rant, "Goin' South' is one of the best the Jack-Nicholson referencing touring song of all time and "Bye for Now" is a melodic promise that things will only be getting better . The bonus tracks, mostly demos of album tracks, are the least interesting of the entire series.
Hoss is by many people's estimation, including Cape who says "the the record generally accounts for the better half of our set list at any given show", the apex of the band's career. The band sticks to their tight, fast, sing-along sound but their growing depth musically and, especially, lyrically help them create a niche within a niche. Rather than learning any new tricks, songs like "Bombs Way" with its clever vocal arrangement or the well-written "Black Eyes" use the existing Lagwagon tricks to maximum effect. The bonus tracks here are mostly well-recorded non-album tracks that show the band growing as song-writers and arrangers but still big enough goofs to lay down "Sinatragandhi", a brief lounge take on Propagandhi's "Head, Chest or Foot?".
Double Plaidinum, featuring new guitarist Ken Stringfellow of Seattle power-pop band The Posies, sharpens the song-writing (and the vocals), which is immediately evident just from track one, "Alien 8". While Hoss is the best representative of the band's sound, Double Plaidinum just might be the band at their most creative. While there are times on this album when the band's abilities seem strait-jacketed by the narrow range of tempos, songs like "Bad Scene" and "To All my Friends" steam-roller over any self-imposed limitations. The bonus tracks feature some fine out-takes but it's the five acoustic demos that show the growth of the band and Cape in particular.
Let's talk About Feelings, the end of the band's initial run, finds Lagwagon straining against the strict sonic limitations of their genre. With Ken Stringfellow gone, the pop element that broke through on Double Plaidinum settles back down below the surface. There are still strong songs like "After You My Friend", "Train" and "May 16th" but plainer tracks like "Leave the Light On" and a tepid run-through of *Agent Orange*8's "Everything Turns Grey" seems to indicate that this Lagwagon had run its course. Though the lyrics were growing more intricate and darker (no more lines like "look at my cat/how come I can't live that?" from Duh) too often the music seems to race along with a certain metallic disdain for emotional complexity. It's not a let-down per se, just the first album that wasn't a marked improvement on the one before it. The relative strength of the eleven [!] bonus tracks here indicate that the band didn't recess due a shortage of good material.
So now twenty years later, with Lagwagon still a going concern, it's time to consider the mythologies, positive and negative, of these second-echelon bands of a genre of many names, whether it was skate-punk, pop-punk, Epi-Fat or 'other'. And you might as well enjoy this round of historical revisionism because the 20th anniversary of Korn's debut album is breathing down your neck.