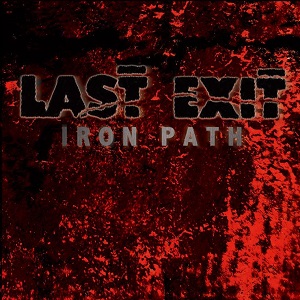 3 June 2015
Twenty-seven years after its initial 1988 release on Virgin, the lone studio album by Last Exit, the free jazz supergroup comprised of guitarist Sonny Sharrock, saxophonist Peter Brötzmann, bassist/producer Bill Laswell and drummer Ronald Shannon Jackson, emerges from history to influence a new generation of improvisation enthusiasts.
Though more controlled than the group's frenetic live recordings, Iron Path nods to Teo Macero's use of the studio as an instrument on Miles Davis' groundbreaking electric fusion albums. In his role as producer, Laswell creates a stark soundscape of dark urban grit and industrial rebellion, allowing the musicians to flourish in layers of tension rather than pure bombast. The opening "Prayer" begins with electronic drones before the drums kick in and Sharrock explodes with heavy metal licks and Brötzmann's saxophone screeches wordless vocals. From here, the songs continue morphing from Japanese meditation to free funk to psychedelia, creating cyberjazz in the process. "Eye for an Eye" effectively transforms Brötzmann into a noisician, while the closing "Devil's Rain" represents what Greg Ginn probably always wanted to do with Gone. It's a progressive, futuristic statement, one to which we haven't entirely caught up.
A dozen years before Zs became the most pioneering band on the planet, Last Exit forged a path for their existence. Catch up to the present, then take a step forward.
comments powered by