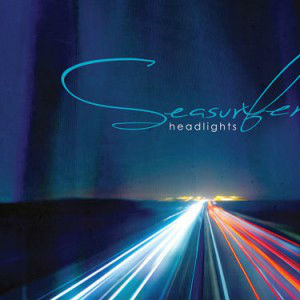 31 May 2015
The Headlights EP is forthcoming on Saint Marie Records, part of a funding project for their forthcoming album over at Pledge Music. As of this writing, the project was 99% funded. These campaigns are becoming more common for financially strapped bands, and as a result, fans get to enjoy exclusive creative works from great bands like Germany's Seasurfer. For example, Headlights is offered in limited (300 pieces) transparent red vinyl and every single copy is hand-numbered and signed by the whole band with a personal and unique dedication for fans.
Headlights features the band's new singer Julia Beyer who replaced Dorian E last year. Other personnel changes include Volker Zacharias (Girls Under Glass, Cassandra Complex) on bass, Jojo Brandt (The Convent) on guitar, and Benny Ruess on drums. The band's founder, guitarist Dirk, has been on board through all of this.
For those familiar with the band's majestic debut, you will be extremely happy with the gorgeous layers of lush dream pop (the phenomenal "No Happy Day") contained herein. Think Cocteau Twins and Slowdive for a start, but expect the band's shimmering, original take on this heavily mined genre. The competing swirls of dark and light are what makes this band tick, and they do it so well.
"After All" dials it back a bit and is a nice balance of Julia's voice and the feathery sonics of her bandmates. Pretty stuff, indeed! "New Dawn" is light and airy, and glisses through your senses with instantly calming grooves. The title track "Headlights" seems like Julia is up front and her bandmates are far distant in an expansive space. I really like the way this EP was mixed, it is so immediate and even with its gauzy haze, it sounds pristine. This is music for a sultry summer evening, as one kicks back with a cool one and lets the music wash over them. For those interested in supporting the band, check out the link above. Otherwise, check out the band at Saint Marie or on their Facebook page.