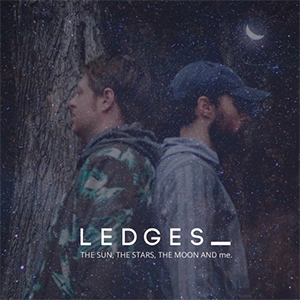 10 July 2018
An online collaboration existing between Boston and New Jersey, Ledges is the electronic project of two friends, Steve Connolly and Anthony Vertullo. Their new album The Sun, The Stars, The Moon, and Me is the culmination of years worth of previously unreleased recordings. Influenced by Chillwave acts like Craft Spells and the record collection of their parents from the 70s and 80s, the tracks are finally seeing the light of day thanks in part to John Jagos of Brothertiger who helped to mix and make some sense of what was originally over fifty songs.
Because it's the work of two people making music for their own enjoyment, there's a carefree, easy-going informality as well as an anything-goes willingness for experimentation. Although the eight resulting tracks are highly influenced by the sounds of Miami Vice, it's a nostalgia for something that never quite existed in exactly this idealized form, and consequently songs like "Mirabelle (The Flood)" have a compelling if somewhat eerie feeling of dislocated familiarity. It's a style that jars slightly with songs such as "Better Lay Low" which are more strictly modern, but it's to be expected given the format.
The Sun, The Stars, The Moon, and Me is a dynamic collection with the occasionally brilliant moment, and one is left with a desire for the band to continue to create music in the future under a more unified vision.
comments powered by