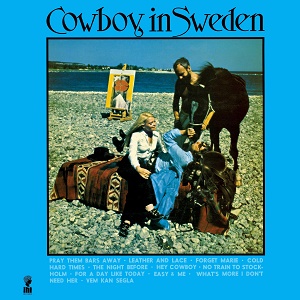 23 November 2016
In 1970, Lee Hazlewood left his shambling record label Lee Hazlewood Industries, broken relationship with longtime partner Suzi Jane Hokom and the Vietnam War, which threatened to draft is only son, for the calmer pastures of Sweden. He soon teamed up with filmmaker Torbjörn Axelman for an hour-long film that paved the way for the music video, the soundtrack of which would prove to be his finest album since 1966's The Very Special World of….
Though more a collection of outtakes than an organized album, Cowboy In Sweden is the album to play for anyone who has never heard Hazlewood's music. There's something for everyone here, from the country folk of "Cold Hard Times" and "Easy and Me" to the psychedelic Beatles-inspired alt-country of "Pray Them Bars Away." Soft pop duets like "Leather and Lace" and "Hey Cowboy" juxtapose against the sinister, mysterious blues of "The Night Before" and anti-war protest of "No Train to Stockholm." A previously unheard psychedelic version of "Easy and Me" joins an unreleased funk interpretation of "Pray Them Bars Away," further proving the versatility of the singer-songwriter-producer as an artist.
Lee Hazlewood continued collaborating with Axelman and releasing albums through the '70s before fading into obscurity for over a decade. Cowboy In Sweden, however, remains one of the highest peaks in his entire career.
comments powered by