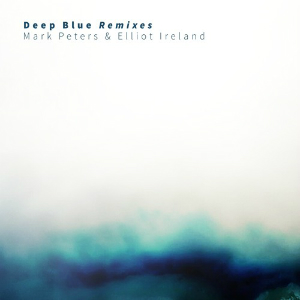 15 October 2016
Mark Peters and Elliot Ireland released a lovely dream pop album last autumn called Deep Blue (reviewed here. Deep Blue Remixes) lifts 5 songs off that album and spins alternate versions of these songs that are produced by some top producers, including electronic master Ulrich Schnauss and modern classical composer Clem Leek. "Oar (Ulrich Schnauss Remix)" is remixed by Schnauss and has a hazy elegance as it unfolds into a piano driven tapestry. This is extremely chill, and will appeal to those needing a peaceful soundtrack for contemplation or creative pursuits. "The Aching Light (Arovane Remix)" is shimmering electronica with treated vocals, light synth beats, and a trippy groove. "Mountains of Silver (Jonas Munk Remix)" is done up wonderfully well by Munk and has luminous sonic textures with acoustic guitar, piano, and what sounds like a tabla. It has a faintly Asian feel, which infuses the song with an exotic tinge. Very cool. "Deep Blue (Engineers Remix)" resurrects the Engineers name and hearkens back to very late period work from that group. It is shining dream pop and surrounds the listener with blissful tones.
"Secret Solstice (Clem Leek Remix)" flows by like a swift river, offering u p gleaming warmth and peaceful eddies of sound. Piano nestles comfortably next to guitar, and it's all tied up in under four minutes. The final bonus track "Cloudsurfing (Engineers Remix)" is hypnotic and unfurls gracefully, buoying up the listener in billowing, sonic dreams. This EP will appeal to existing Engineers fans, followers of Ulrich Schnauss, and those who like dream pop meshed with electronica.
Deep Blue Remixes will be available digitally from October 7th exclusively via Juno Download with a bonus track – 'Cloudsurfing' (Engineers Remix) that will only be available there until October 21st. The E.P will be available on all other digital platforms as of October 21st.
comments powered by