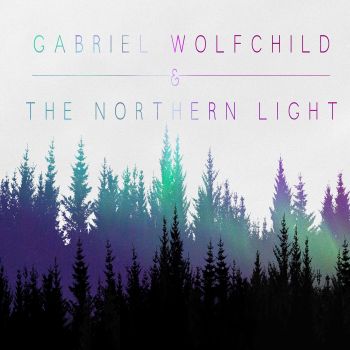 14 October 2016
Atmospheric indie/folk musical collective Gabriel Wolfchild and the Northern Light is led by reflective singer-songwriter Gabriel Wolfchild who was once a solo artist. His name may ring a bell because he was featured on NBC's The Voice in 2015. Wolfchild had a successful blind audition for the show and he quickly discovered that what he enjoyed most was collaborating with other artists on material and the inspiration that comes from the process.
Flash forward to today and Wolfchild is on the verge of releasing his debut EP, Mornings Like These, which was produced by the renowned Eric Lilavois (Saint Motel, Atlas Genius) at the famed London Bridge Studio in Seattle, Washington. Wolfchild has surrounded himself with a talented ensemble of musicians and together they weave a multi-instrumental tapestry for Wolfchild to wrap his warm, storytelling vocals and complex, yet still accessible, guitar patterns in.
The group recently released the single "Runaways", a sonically laid-back, but emotionally (even spiritually) stirring, love song that speaks about universal appreciation and acceptance, something that seems to be in short supply these days. It's the gift of the relationship; of connection, even after it has been severed by inexorable deadline of time.
A heartfelt Wolfchild gentle drapes his lightly aching vocals over his keenly astute words, sighing tenderly that, "It's not just you in those shoes / It's everyone you know, everyone you love / Everyone who has broken your heart / Soulmates from the start / Soulmates even after we depart."
Wolfchild's poetic expression is supported by a mild frisson of hushed organ reverb, little, lilting curls of steel guitar, subdued, shaken-sand percussion, lightly brushed drums, and the shimmer of cymbals.
The collective has bowed a relevant and resonant debut video for "Runaways", directed by Aaron Anderson, and its involving moving images fit perfectly with the song's theme. The video cuts between Wolfchild wandering the highways and byways, strumming his acoustic guitar, and close-ups of his and a diverse array of other people's faces singing the words to the song.
The video also traces the trajectory of human connection by episodically following the movement of a hug, from one person to the next, as each individual traverses a natural landscape (forest, desert, – and even lake!) or a busier cosmopolitan backdrop. This focusing on the link between humans sends a powerful, positive, – and timely, message into a world that is in dire need of unity and peace.
Mornings Like These EP will be out October 21st.