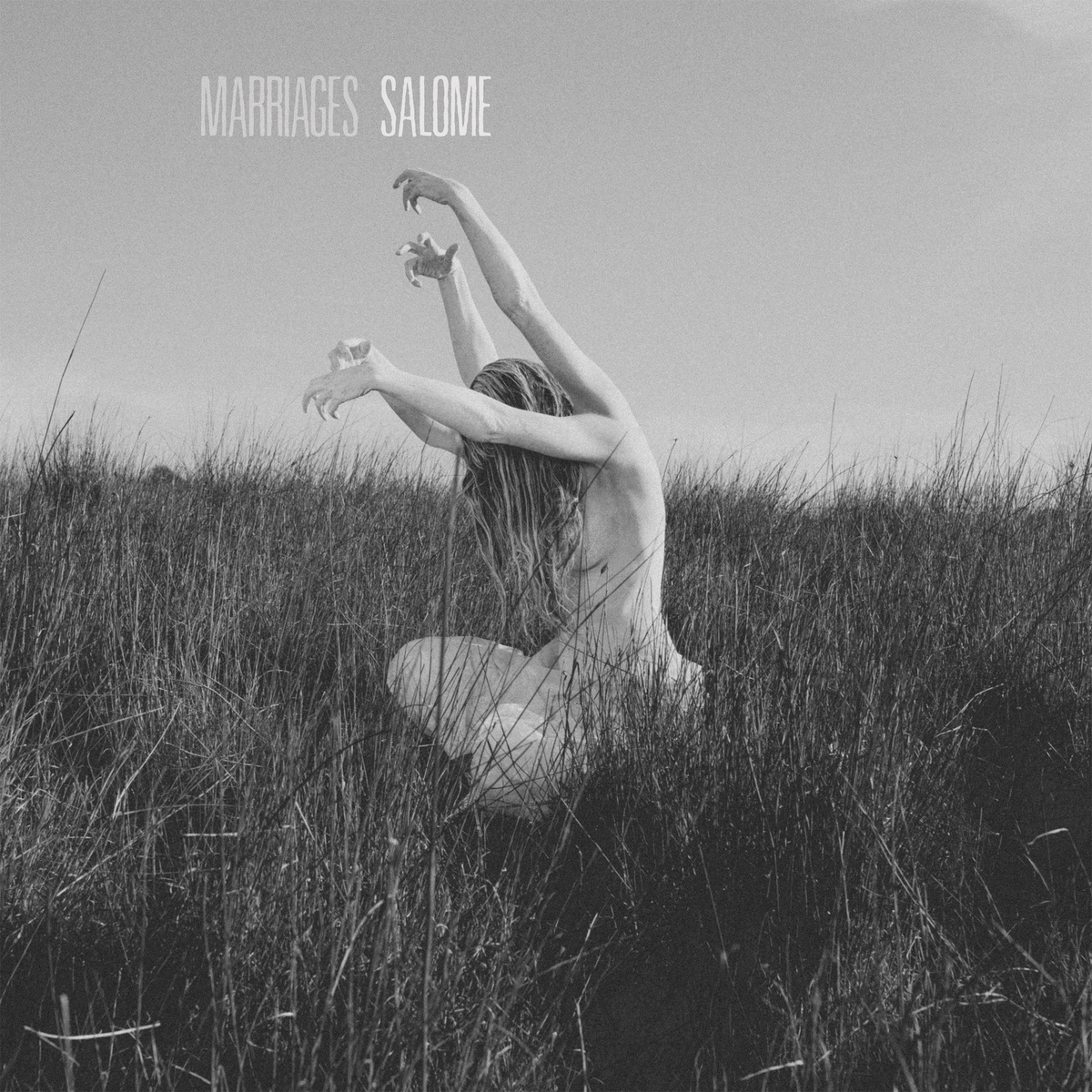 7 April 2015
Maybe my 'blue period' never really went away, but I have to admit having a serious soft spot for dark, heavy tunes that seem to suck the air out of the room. You know the music. It's the stuff that is perfect on those pre-Halloween fall evenings when the cold is just starting to creep in, like a summertime hangover. It's the music you want on in the background when you are about to do something awful. I can't help it. I revel in that shit. It's gotten to the point that I can hear it and immediately fall in love. That happened with Marriages' Salome.
Los Angeles trio Marriages began in 2011 as a collaborative effort between former Red Sparowes members Emma Ruth Rundle (guitar, vocals) and Greg Burns (bass, keyboards). Stepping away from the Sparowes purely instrumental rock, the new work moved Rundle to the forefront as a vocalist. Enlisting Sparowes drummer Dave Clifford, they recorded Kitsune, released on Sargent House in 2012. Subsequent touring with Russian Circles, Deafheaven, Chelsea Wolfe and others honed their vision while introducing the band to a broad cross-section of heavy music fans. Full time drummer Andrew Clinco completed the equation in late 2012. While the group busied themselves writing the songs that would become Salome, Rundle issued solo album Some Heavy Ocean in early 2014, earning praise from the likes of Pitchfork, NPR, etc. Promoting that record found her touring the US as direct support to King Buzzo of The Melvins, immediately after which Marriages set out on tour once more, this time with the legendary Boris.
If you are familiar with at least a few of the artists mentioned in the previous paragraph, you probably have a pretty good idea of what you are getting into with Salome. There have been a few really good heavy, sludge-ridden rock bands with female lead singers over the last years (Rose Windows and Walking Bicycles immediately come to mind). Where Marriages step away from that equation are flavorings of 80's post-punk pop like Siouxsie & the Banshees, Echo & the Bunnymen, Concrete Blonde and The Cure. It's still dark, but it also has feelings. Match that with the occasional Tori Amos-esque vocal flare or synth melody and you have the makings of some great rock music.
It is the examples where Rundle's vocal delivery winks at pop melody on tracks like "Skin" and "Binge" that Marriages come truly into their own. Not that there would be anything wrong with being another heavy, dark rock band. The world can never have enough of those. But, that little difference will be a reason you come back to Salome specifically. These are more than themes for the villain. They are themes for the slightly misunderstood and possibly redeemable villain. The more I listen to this album, the less I think of the band as anything like Rose Windows or Walking Bicycles, but instead the proper heir to Disintegration. Is there really a better compliment you can give an album?