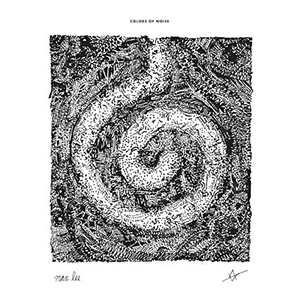 22 November 2018
max lee is a rock artist from New York, and influences of Beck, Prince, and the Talking Heads are clear in his style which, in its essence, often sounds like a punk deconstruction of many different genres. A musician who stresses above all else his sense of individuality, lee's debut album Colors of Noise was written, played, and recorded all on his own. Regardless of its lo-fi aesthetic and many short songs close to a minute in length, it is a testament to what is possible from a single musician, and lee manages to effortlessly balance the deeper, more focused work with fun, experimental doodles.
One may be tempted to look at a short song like "could be," and expect it to be a little throwaway, but in fact lee gives equal attention to every single on the record. It's merely that some are closer to miniature vignettes than full-bodied songs, and many of them, like "where's the garbage?" manage to pack a lot of pop into a short package. He plays with a number of styles from funk to folk, and the album works better as a whole than broken up, but there are some definite highlights like the psychedelic groove of "The Key" to the shoegaze drone of "FOREVER."
In a sea of self-released lo-fi albums, Colors of Noise manages to stand out from the pack with style, substance, and quality songwriting.