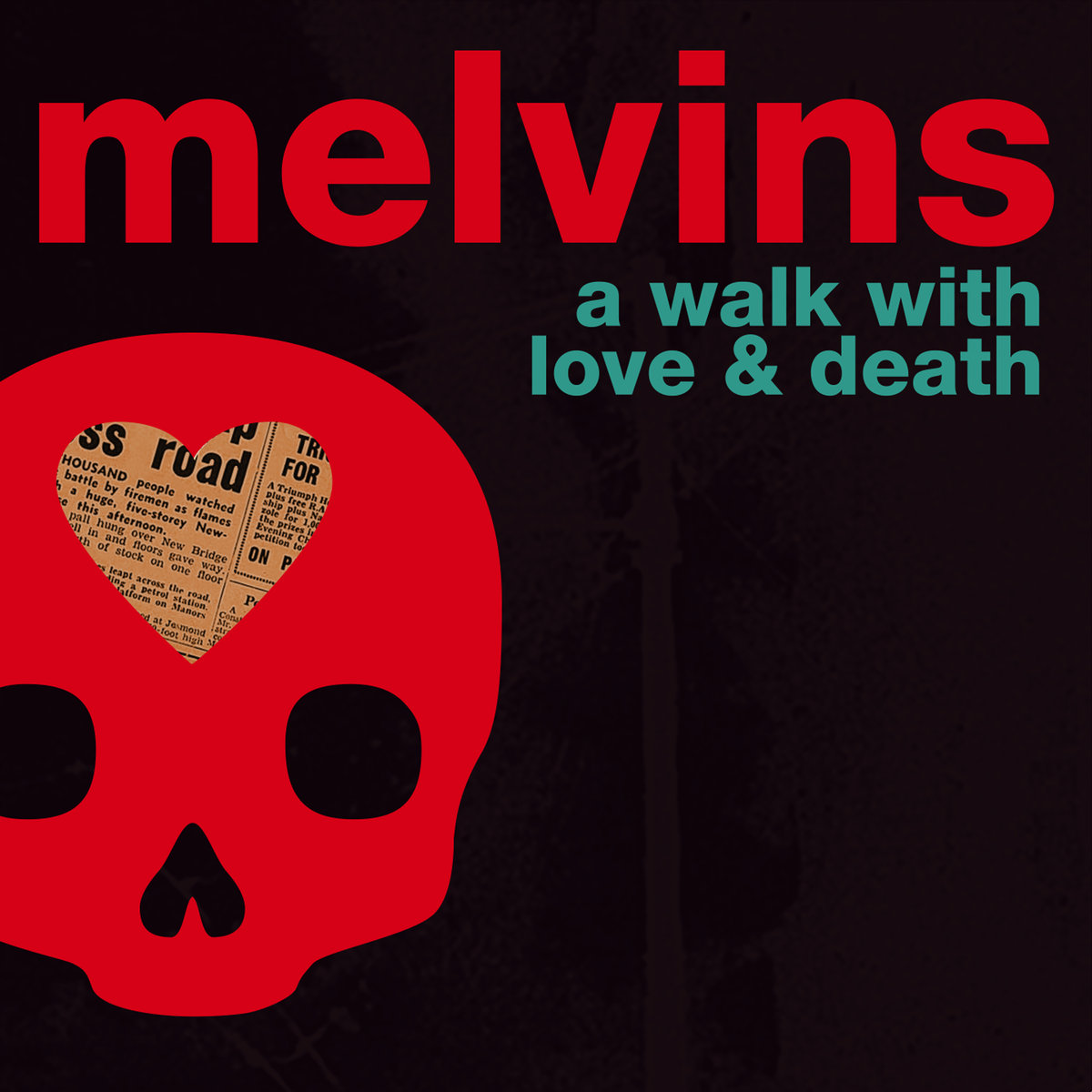 19 July 2017
Melvins are America's true workhorses of heavy. At a clip of an album per year or two, core members Buzz Osborne and Dale Crover have crafted relentlessly explorative rock from each release to the next. They continue that streak with what Osborne himself refers to as "a huge undertaking" for the group: their first double album, A Walk with Love and Death. The two records pair together Love, the band's score to a short film of the same name by director Jesse Nieminen, and Death, a traditionally song-based album.
The Love half will surely sate fans who've been waiting for something along the lines of Honky's more dissonant endeavors. There isn't much in the way of conventional instrumental arrangement here – think the eerie soundscapes of David Lynch rather than the anthemic fanfare of John Williams. Amid this expanse of sound collage and field recording, the only instance of a song forming is the Dirtbombs era-_Ooey Gooey Chewy Ka-blooey!_ number "Give It to Me." For the moment, they become a roller rink house band gone awry, replete with sugarshit keyboards and one of the most energetic bass lines to ever grace a Melvins recording. Apart from that anomaly among noise, we are also gifted the unexpected chopped and screwed tape manipulation of "Scooba," a spiritual counterpart to the Butthole Surfers' "Kuntz."
Death is where Melvins get down to brass tacks. Still featuring Steven McDonald on bass after a few years of touring, one cannot help but notice the strange clarity he adds to the group with his presence. Until recently, the only hope for making sense of a Melvins song's lyrics rested in it either being a KISS cover, or left to the deciphering hands of world class analysts Beavis and Butthead. McDonald has undoubtedly brought an annunciation to the table, as well as a spunky flare to their songwriting. "What's Wrong with You?" may as well be an outtake from (McDonald's alma mater) Redd Kross's Neurotica, and its effective blend of styles solidifies the outstanding nature of the mark he's leaving; he's anything but a passive member.
Teri Gender Bender of Le Bucherettes drops by to lend guest vocals to "Cactus Party," recalling the Crystal Fairy record she made in collaboration with Melvins from earlier this year. Anna Waronker and Joey Santiago are also reported to appear on this record, although their contributions are less detectable. Still, after so many years of sharing the driver's seat with artists such as Jello Biafra and Lustmord, it's clear that their trick to staying fresh is teamwork.
Osborne unsurprisingly boasts a number of riffs mixing cleverness and heaviness – opener "Black Heath" is a powder keg that never quite goes off, showing masterful restraint from the three; guitar and bass trade the same string of notes back and forth, menacingly weaving down an endless staircase. "Euthanasia" shows just how far Crover's prime extends. He puts on a clinic during the loudest moments of the dirge, taking advantage of the slow tempo to get as busy as possible behind the skins. Later on, in album highlight "Flaming Creature," his internal metronome is put to the age-old task of syncing up with Osborne's worming, seemingly arbitrary riff composition. It may not be considered math by genre standards, but it does require a firm discipline of counting by intuition. By its end, Death comes and goes with a renewed sense of direction that we haven't seen from recent efforts such as Basses Loaded and Tres Cabrones.
You may purchase the record here.
comments powered by