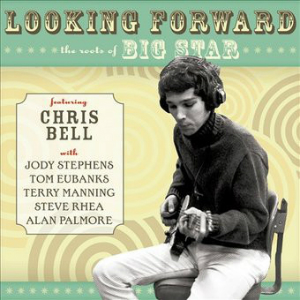 16 July 2017
Summer ticks by, and my review queue gets longer by the minute. But I would be amiss if I didn't take the time to acknowledge how important Big Star and its members are to the music we love and continue to enjoy today. Alex Chilton is always the first person most people think of when Big Star gets mentioned, but Chris Bell was also an important member of this band. This 22 track collection includes 6 previously unissued tracks and chronicles the music made by and with Chris Bell pre-Big Star, including such projects as Rock City, Christmas Future, Icewater, and The Wallabys. The packaging contains photos and liner notes from Alec Palao as well as quotes from former Bell bandmates such as Jody Stephens and collaborators that include Ardent Studio founder John Fry.
The collection starts off with Rock City's "Think It's Time to Say Goodbye" where Bell plays guitar and sings backing vocals. The first indicators of Big Star's sound is evident, with big, power pop riffs and nice harmonies. Icewater's "All I See Is You" veers even closer to Big Star territory, with heartfelt lyrics and lovely vocals. It even sounds like a recorder is mixed in, something very much in vogue in that time period. "My Life Is Right" is a rougher cut than the Big Star version, but it's equally powerful and emotional. Icewater's "Looking Forward" is somewhat trippy and a nice example of psych pop. It has Chris all over it, playing, guitar, bass, and singing lead, and it's all his show. "The Wind Will Cry For Me" is Rock City's moment in the sun without Chris Bell, but it does have Jody Stephens on drums. "The Reason" from The Wallabys reminds me of something Ringo Starr might sing for The Beatles. "The Answer" from Rock City has Chris Bell's delicate lead guitar playing. It's a lovely, somewhat solemn folk rock piece before it ramps up to a blues stomper. "Lovely Lady" contains echoes of the sort of chiming pop Big Star would jump on a few years later. Bell plays lead on this Rock City track and provides backing vocals. Icewater (which includes Big Star's Andy Hummel here) offers up the lilting "Sunshine" with gorgeous harmonies and that ubiquitous chiming guitar. Wonderful! The gorgeous, steel guitar laden version of "Try Again" is mostly all Chris Bell and was co-written with Alex Chilton. The remaining tracks are backing tracks (instrumental) and are of mild interest, but not as compelling as some of the earlier material.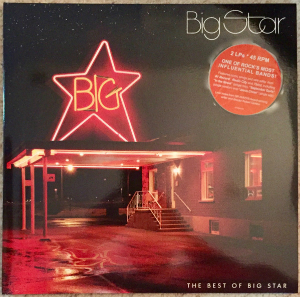 Moving on to The Best of Big Star makes me wonder what superlatives I can offer that haven't already been offered by a thousand other scribes. I got into Big Star in the 80s, before reissues happened and when original copies on Ardent Records were fetching big bucks. I remember how difficult it was to find #1 Record and Radio City back in the day, and my resulting delight when I found them in New York City via mail order. Reissues came later and now it's dead easy to find these tunes, but even so, it's always a pleasure and a delight to hear these songs, sounding as crisp and clear as the day they were recorded. They've been oft covered and in the genres of music that most appeal to me, it seems Big Star's name is always coming up as an influence. And no wonder, when you have gorgeous guitar pop like the familiar "September Gurls" with its chiming Rickenbacker 12-string. I am certain that is not the only guitar employed on that song, but it's the one that stands out. It's the sort of song you sing along to on a warm day with the top down or the windows wide open as you drive. It has a joy about it, and it doesn't matter how many times you hear it, it never gets old. But I should backtrack a bit to discuss "In the Street (single version)" and "Don't Lie to Me (single version)". These did not appeal to me as much initially, but when I dug deeper and listened to all the sparkling bits of studio magic and just the overall skill of these players and their producer, I was duly impressed. The killer harmonies on "In the Street" just clinch it for me, and that chugging opening guitar on "Don't Lie to Me" nails it. They're both more typical of 70s radio fare, and the other songs are less so. "Thirteen" is just grand, and if you can ignore the idea that the narrator might be too old to date a thirteen-year-old, then it's all cool. I mean, yeah, it's kind of creepy, but the song is so luminous and lovely, that I can skate over the ick factor and enjoy this pristinely produced pop song.
"Jesus Christ" may or may not be mocking religion, but no matter, it's one of Big Star's better tunes and it's not a lyric you will forget. It belongs on everyone's Christmas playlist, more so than many of the better known and sucky songs that bombard the airwaves each holiday season. Ooh, "I'm In Love With a Girl" is just terrific. It's short, sweet, and abounds with the churning emotions of new love. "Feel" is the opening track from #1 Record and Alex is in all his glory, keening with the high notes. "When My Baby's Beside Me" is another stone classic, a superb power pop ballad, complete with hand claps and stellar production on top of the dual guitar attack and the usual excellent vocals and harmonies. "Take Care" is a twilight slice of chamber pop set to a waltz beat, a solemn tune drawn from Big Star's "Third". Alex sounds so mournful here, and the backing instrumentation only underscores this. "Life is White" was co-written with bassist Andy Hummel and features harmonica and barroom piano. Kind of cool! "Watch the Sunrise (single version)" is a pleasant, acoustic tune that is beautifully sung by Alex, though I wonder slightly at its inclusion here. For example, I would have definitely placed a personal favorite song of mine, "My Life is Right" instead of this tune, but it must have been darn hard to winnow down this collection to 16 tunes. The beautiful "The Ballad of El Goodo" is a firm favorite, and it's a total gem! Alex's lyrics will touch your heart unless it's made of stone. "Nightime" is a delicate tune from Third and it's always made me sad hearing it. It is arguably the best tune on Third and definitely has earned a spot on this collection. And oh, "Back of a Car", another total classic covered by so many. I remember hearing the great Let's Active do this live, and it started me on my journey of discovering Big Star. And finally, there is the bittersweet "Thank You Friends", a fitting end to this collection. Well done!