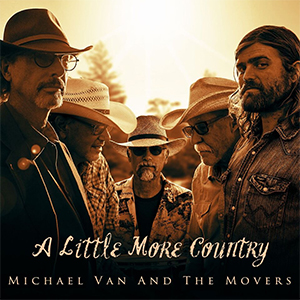 10 December 2016
A country band from Point Richmond, CA, of all places, Michael Van & The Movers sound more country on their new album, A Little More Country, than most bands today from even the deepest of the deep South. The band's aim with the album was to return to "the roots of our music and the simple truths that try to come out with every song," and indeed it seems the band has stripped back their sound to the bare essentials of the genre—the staples that actually made country great to begin with.
In fact, some of the songs sound so traditional, they could be easily confused for long lost country standards, like the murder ballad "Skeddadle Mountain Lullaby" which perfectly pulls every lyrical trick and hook in the subgenre without sounding for a second like a spoof or imitation. The band even recreates the soul of the country waltz on "Center of the Universe" with a wonderfully boozy Basement Tapes like drunkenness.
Michael Van & The Movers' A Little More Country is out December 20th, and it just might be the perfect Christmas gift for the country fan longing for traditional Americana and country that doesn't entirely sacrifice a modern sensibility.
comments powered by