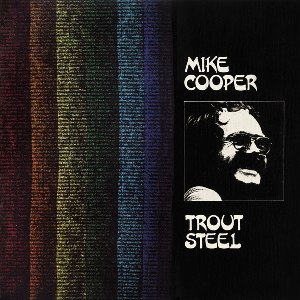 24 May 2014
For the lot of us uninitiated to Mike Cooper and his 1970 LP, Trout Steel, it's a doozie. Earnestly reissued by Paradise of Bachelors and produced by Peter Eden (Donovan, Bill Fay), Trout Steel eloquently connects brit folk to free jazz with ease and originality.
The saxophone work by Mike Osborne on album opener "That's How" is alone worth seeking this one out. "Sitting Here Watching" follows with lasting raga inspired leads as Cooper speaks of his passing nature, frequently singing, "Out here and on my way again."
The centerpiece and real treasure of the LP is the free jazz/folk/orchestral experimentations found in "I've Got Mine." The piece is an exploratory work that makes a lasting impact on the folk genre and remains a song that puts Cooper in a world all his own. "Pharoah's March" is dedicated to the tenor giant, Pharoah Sanders, alluding to Cooper's outsider tendencies that would eventually show more prominently in later works. It's an admirable tribute and an exciting listen filled with Sanders-worthy skronk and complexity.
"Weeping Rose" elegantly ends the trip with Cooper all alone with a skillfully picked guitar, singing "I'll meet you further down the road." It's simple arrangement and delivery gives the listener not only a needed reprieve from earlier experimentations but also a smooth closure to the whole deal.
Listening to Trout Steel, one can't help but feel that there are many artists (both past and present) who owe a debt to Mike Cooper – whether they know it or not.
comments powered by