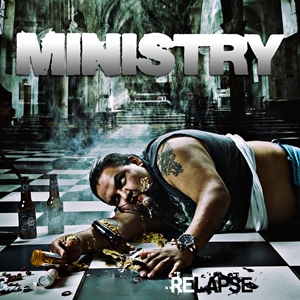 24 March 2012
Just two months after making his "country-core" debut as Buck Satan, Al Jourgensen puts away his 666 shooters and unleashes the Gatling gun as Ministry has been resurrected or Relapse-d. The album is introduced by an uncharacteristic riff consisting of tapping. It's the kind of thing you would expect from Van Halen, that is, until the doors get blown off as the vintage lightning fast beats and rapid fire riffing returns on "Ghouldiggers,". The idea of an artist being ripped off, last visited by Buck Satan's "Cheap Wine, Cheap Ramen", returns albeit with far more venom.
Speaking of venom, if the Occupy movements showed the kind of anger toward corporate greed that bleeds from the anthemic "Kleptocracy", I might be able to take the protest much more seriously. This political stance is furthered by "99 Percenters", in which the Occupy movements are mentioned and taken to their logical but unlikely conclusions. While the message of "Get Up Get Out N' Vote," would seem to be obvious, it does speak to the fact that many Americans don't know to act in their own best interests.
Ministry has always been at its best when the government looked especially out to screw us. There are few politically charged industrial or metal tracks that are as infectious as 1992's "N.W.O.," and 2004's "No W,". It's no coincidence that the classic era of the band (consisting of the essential albums The Land Of Rape And Honey, The Mind Is A Terrible Thing To Taste, and Psalm 69) was during the Reagan-Bush I years. No to mention that during Bush II's reign of terror, they recorded two more amazing records in Houses Of The Molé and Rio Grande Blood. Both albums were directly attacking of that regime and the evils they perpetrated. Relapse is no different. There are no Bushes to be burned but there's no shortage of guilty parties to want to topple. Relapse excels when making a point and drills it into the listener's head whether it be about economics or the incompetence or procrastination in tracking down and killing Osama bin Laden ("Double Tap,"). Jourgensen knows all too well that when your trying to reach minds, the voice that's the loudest is the one that gets heard.