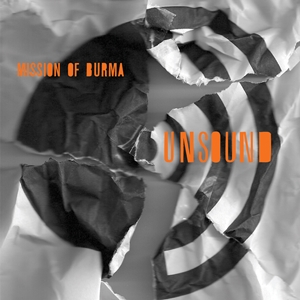 4 July 2012
What better way to kick off Independence Day with a band that is from the site of a key event leading to The American Revolution? Okay, that was a bit convoluted. Nonetheless, Unsound, the fourth album since the post-punk trio reformed, is full of fireworks. Unlike contemporaries Sonic Youth, Mission Of Burma actually seem to be rejuvenated since leaving Matador Records, as Unsound is, perhaps, their finest effort since Vs. That's 30 years for those scoring at home. Scary, I know.
With the early Burma catalog, the songs that always stuck with me the most were the ones written and sung by bassist Clint Conley. With the reunion albums, I found drummer Peter Prescott's tracks to shine the brightest. No offense to guitarist Roger Miller, as his songs were hardly just filler. For some reason, Conley's songs just left more of a lasting impression on me. Despite a real departure in songwriting, Conley is once again in top form. "Semi-Pseudo Sort Of Plan," isn't the anthemic track that he usually delivers but it is certainly strong, full of harmonizing and phasing guitar. "Second Television," is one track that reeks of classic Burma, reeks like excessive garlicky cooking, reeky awesome. "7's," clocks in at just over two minutes of fun in-someone's-face confrontation.
Miller and Prescott have their moments as well. The album's festivities commence with Dust Devil which is a tight and raucous romp. "Part The Sea," is a song that Isaac Brock of Modest Mouse is going to be pissed that he didn't write. To be fair, he's going to pissed anyway…and probably drunk. "Sectionals In Mourning," is the other glowing example of vintage Burma with the A-B-A-B-A structure and then C being a galvanizing outro that brings an already great track to another level. It comes on like a militant march and ends in rousing revolt. It is probably the album's strongest track. Fans of Mission Of Burma were going to check this out anyway, but you should know ahead of time that Unsound is way sound.