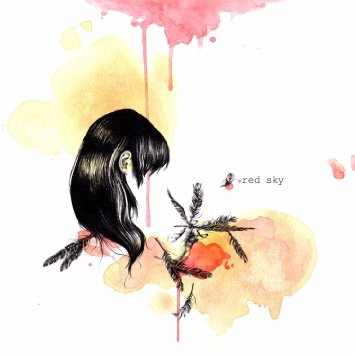 8 June 2016
The band calls it "cave music", some call it dance, others punk, but whatever you name it, it's gonna blow you away. Moon Hooch, which is Michael Wilbur and Wenzl McGowen on saxophones with drummer James Muschler, sounds literally like nothing you've ever heard before. Go ahead, spin the first cut, "Red Sky" and be bowled over by the incredibly loud, aggressive sax, sick drumming and the overall groove of it all. Largely instrumental, the band stirred up a fuss playing on Brooklyn train stations, and there's a big naked city vibe to the record that sounds NYC as hell.
They use Moog Sub 37s in addition to the saxophones, and it gives a growling, Kraftwerk sense of urgency, as if you were dropped into a foreign language movie in the middle and you know somethings up, but you can't figure out what. On "Sunken Ship", one of few vocal numbers, they have a slick Air vibe, and on "That's What They Say" they come across like a lost early Roxy Music or Morphine outtake, but really, they sound like music from another planet, one where James Chance battles Ornette Coleman in an epic jam session.
In an age of Auto-Tuned BS, music that takes chances- and succeeds marvelously- is a rare and special thing. If Red Sky by Moon Hooch is the future, sign me up. Bloody fab it is.