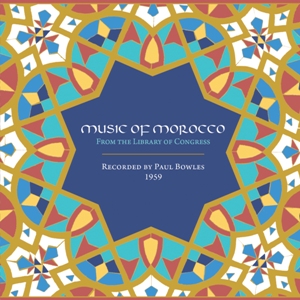 8 April 2016
Paul Bowles, the renowned author of The Sheltering Sky, settled in Morocco in 1947. In addition to be an author, Bowles was also a composer and had serious interests in North African music. After a decade spent living in Morocco, Bowles set off on a 25,000 mile journey across the African continent, making over 20 stops on his journey to record indigenous music for The Library of Congress. Atlanta label Dust-to-Digital are lovingly issuing these recordings as Music of Morocco: From The Library of Congress – Recorded by Paul Bowles, 1959.
First off, it must be said, that Dust-to-Digital have done an incredible service to the work of Bowles and to the listener/collector with this release. Not only do these recordings sound as fresh as they day they were performed/recorded, the packaging is just breathtaking. The release comes as a 4 CD set in a silk screened box with a 120-page leatherette bound book featuring field notes by Paul Bowles and an intro from Sonic Youth's Lee Ranaldo.
Highlights from the 4 CD project include the joyous rhythm of Moqaddem Mohammed ben Salem and ensemble's "Third Sqel," the enlightened drone of Embarek ben Mohammed's "Mellaliya Song for Male Voice," and the blessed celebration that is Maalem el Hocein and ensemble's "Qsida Midh."
Perhaps the highest of all is Si Mohammed Bel Hassan Soudani's "Gnaoui Solo Song." This man from Marrakech uses nothing but instrument and voice to unknowingly represent a place and time in its purest form.
When listening to Music of Morocco: From The Library of Congress – Recorded by Paul Bowles, 1959, it's incredible to think about Paul Bowles and the journey that was made to capture these unique and utterly celebratory recordings. It's a rare project where the music can be thoroughly enjoyed on its own, but the story can also be just as much a part of the experience.