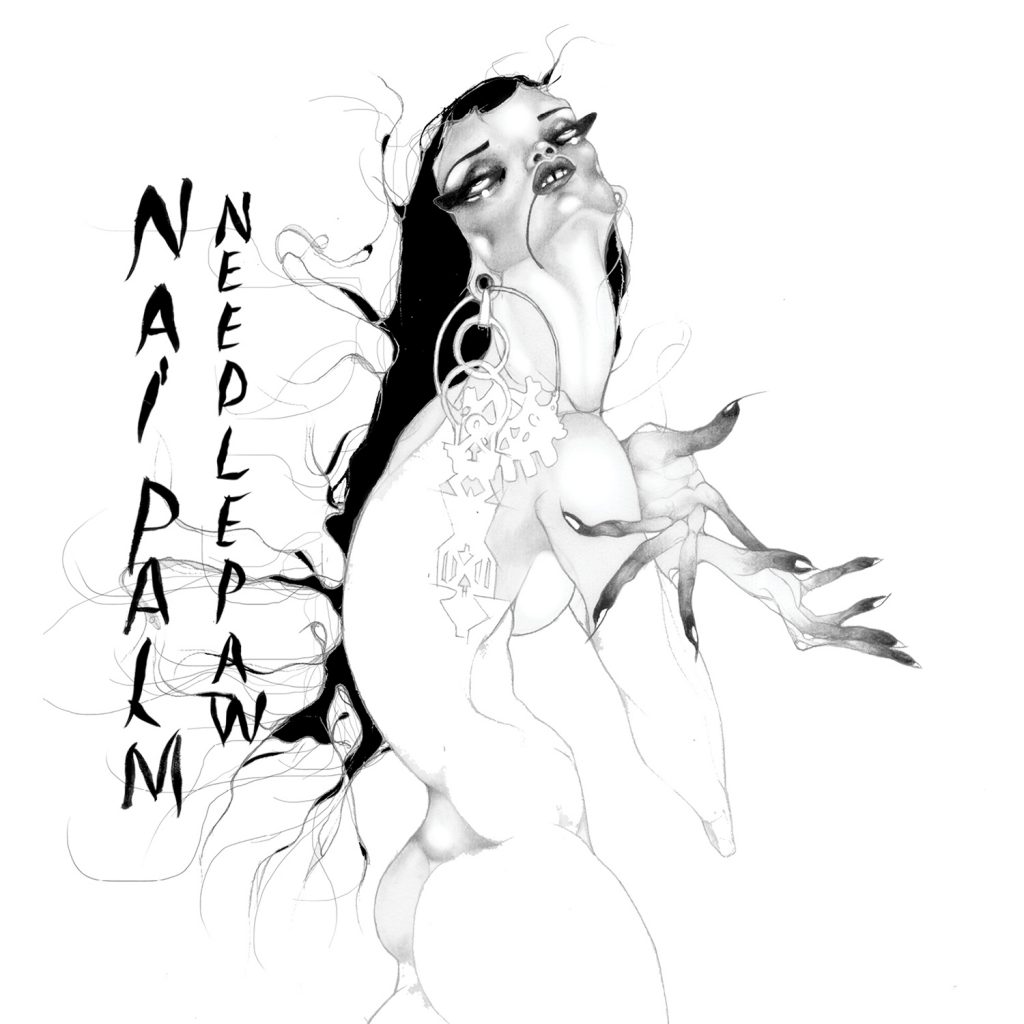 7 November 2017
Excavating past the funky melodic bass lines, the ever-shifting and expertly syncopated drum beats, and the walls of keyboard so multilayered that it must have taken the many arms of the goddess Durga to produce; in the jazz-coated center of Melbourne's inimitable hip-hop quartet Hiatus Kaiyote lies Nai Palm. She is their rock, as they say in marriage, and it's clear venturing back to old YouTube videos of Palm performing solo – particularly this one, where she performs "Mobius Streak" solo in a loft along with some sort of exotic bird that nabbed a seat in the coveted right shoulder balcony – that the majority of the work they've crafted together all circles back to the starting blocks of her voice and guitar. "Starting blocks" almost reads as a disservice to the music once you've heard it: her vocals combine such bold expression with a smoky perfect pitch that one doesn't even consider the onslaught of jazz-infused guitar stylings underneath it all.
Palm's songwriting never settles for anything less than impressive. Each hook, transition, and harmonization is hard-fought and clever, blindsiding and mesmerizing upon first listen. Its mandated intricacy is what enraptures fans. Lifers don't merely tune in to Hiatus Kaiyote, they bask in it. That being said, Needle Paw, Palm's debut offering, can be seen as less of a proper solo outing and more of a grand fan service. It largely consists of minimal (or minimal compared to previous versions, more accurately) interpretations of existing HK songs as well as various covers.
The covers are thoughtfully handpicked. Palm doesn't wade in one genre for too long, and it's fun to see her palate of influences represented in one space. She borrows Bowie's beauteous stark message of being yourself and celebrating your inner weirdo. Ashanti gifts her with the inspiration and groove of rhythm-and-blues. Hendrix is responsible for both her flower child tendencies and at least five or so chords she and countless other likeminded guitarists have frequently copped since 1967. All of these progenitors are adapted seamlessly into her soulful rearrangements.
Needle Paw's most endearing aspect is its open mic feel. Featuring mostly Palm's guitar (fraught with as few overdubs as possible), her voice, and a small band of additional vocalists; the entire project's setup resembles that of a top-notch busking collective, and was accordingly recorded as such. Her guitar is the key ingredient – she plays an electric on clean setting for the majority of the time, but it's certainly not recorded through a direct input. Instead, it's mic'ed closely to the speaker on a low enough setting that the organic tactile moments (picking, popping of strings) still register on tape.
It's no surprise that the album's highlight blends her oeuvre with selections from her favorites, resulting in a written-out equation that solves for her current output. Using the root chord from "Breathing Underwater," but holding off on the song itself until the very end, she meanders expertly through a headstrong rendition of a section from the latter-day Bowie classic "Blackstar," then injects briefly but oh-so-ingeniously the refrain from Radiohead's "Pyramid Song," all before finally returning to home base to deliver an intoxicating choral-heavy iteration of her own past penmanship. Needle Paw fulfills any HK fan's dream of hearing an MTV Unplugged set from the foursome's mastermind, accompanied by an autobiographical music diary.
You may listen to the record at any of these outlets.