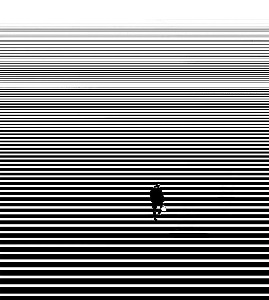 25 June 2016
The new project of Los Angeles musicians Michael Weeks and Lee Young, Native Gold is an alt-electronic duo influenced as much by Radiohead as they are Pink Floyd. Their soon to be released debut EP, A Man We All Admire, is a three track manifesto of psychedelic whirlpools and pulsating, hypnotic grooves.
The lyrics of "Fake the Smile," like all three songs, are pushed to the point of abstraction with simple phrases repeating and looping in and out of audibility and even comprehensibility. The words seem almost perfunctory, illusory—they seem to be picked out more for phonaesthetic purposes than any apparent narrative structure. Vocals are distorted, put into a blender, and spun back out into a fantastic kaleidoscope of psychedelic musings.
The darkness lurking throughout "Begun to Begin" makes the entire EP feel like itself is a bad trip—a nightmarish glimpse into the underbelly of the genre. Melodic ideas from Pink Floyd and The Beatles are ripped apart maniacally into something all together different and profoundly menacing, with the duo laughing all the while at the carnage beneath their feet.
A shocking amount of ideas and themes are tackled over the course of a very short EP that undoubtedly leave the listener with even more questions about Native Ground then before. A Man We All Admire is due out July 5th.
comments powered by