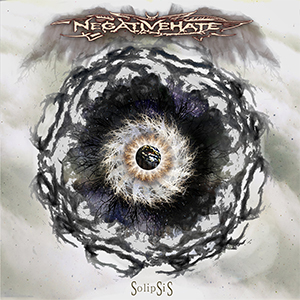 9 December 2017
It's not easy to be a Prog-Rock band. Other than, perhaps, Nu metal, there are few genres that have been as maligned or the brunt of so many jokes from self-respecting music journalists for decades. Partially, it is because the musicians involved in its creation do little to prove the criticisms otherwise, but the fact remains that there is an occasional flash of originality and genuine artistic sentiment within the movement. NegativeHate has long been one of those flashes, and their fifth full-length Solipsis only lends further credence to this claim.
With only seven songs, and most clocking in at over eight minutes long, the band seems well on their way to fulfilling typical cliches of the Prog-Rock genre, but it is precisely what they do in those eight minutes or longer that separates them from the crowd. In fact, a track like the eleven minute "The Expanse of the Universe," is closer to a rock opera with individual components, each equally compelling, than one endless jam. The band members are also experts at combining elements of metal, especially on "Disintegration Waves," which prevents the album from ever growing tedious.
Solipsis is one of NegativeHate's greatest releases yet, and represents a coalescence of everything they have stood for over their long existence.