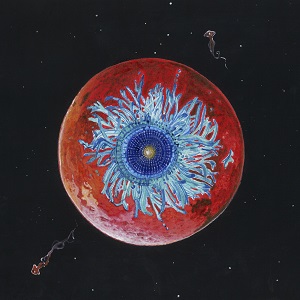 6 May 2015
Under the helm of seven-octave range vocalist, Claudio Milano, Italian multimedia art collective, NichelOdeon/InSonar, deliver yet another boundary-pushing statement, this time focusing on the aquatic world.
Ukiyoe evokes the stormy darkness of the sea through a visceral tapestry woven with symphony, opera, jazz, electronics and experimentalism. Waves clash in the free arrangements of strings, winds, guitars, drones, synths and percussion, driving Milano's sinister, dramatic vocalizations, further augmented by several other vocal talents. Bursting with Diamanda Galas intensity, it's a concept album that moves beyond the rock opera dynamic into realms where only the deepest, most passionate emotions revel in Dionysian fury.
Included in the colorful gatefold packaging is the DVD of a short film, Quickworks & Deadworks by Francesco Paolo Paladino, with music by NicelOdeon/InSonar. In this surreal, absurdist imagining, four individuals find themselves shipwrecked and are forced to come to terms with each other and themselves. Possibly a comment on the family dynamic and/or the clashes of generations, the twenty-five minutes recall Luis Buñuel, Alejandro Jodorowsky and Samuel Beckett.
Such an ambitious project would be extremely difficult to fully realize, but NicelOdeon/InSonar have successfully delivered a work of art that conceptually achieves all they had planned. Get in your rowboat as the tide goes out and the sky darkens with clouds just to experience the rarely seen black magic of the open water for once in your lifetime.
comments powered by